AMD R9 Fury X leads Radeon 300 into NVIDIA battle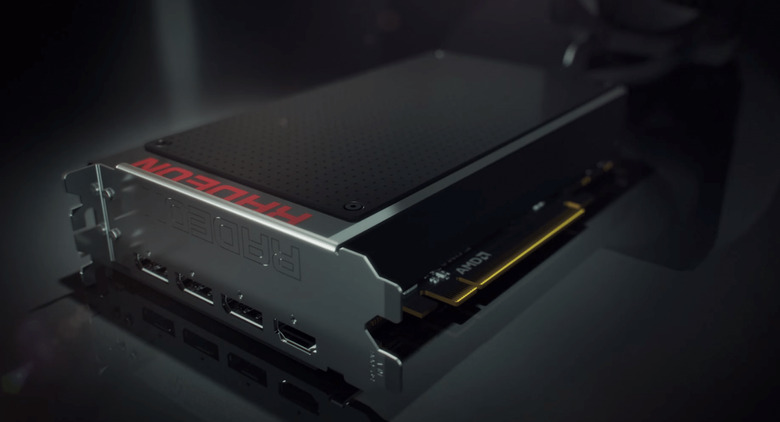 AMD has blasted a set of new video cards out among the E3 2015 gamers, topping out with the liquid-cooled R9 Fury X. Powered by 4,096 stream processing units in a dual-slot card, the R9 Fury X packs 4GB of High-Bandwidth Memory (HBM), boasting in excess of 3x the bandwidth per watt of GDDR5 memory. Altogether, it's capable of driving up to six displays, with 4K resolution and DirectX 12 support, and sits at the pinnacle of AMD's new Radeon 300 series.
$649 gets you AMD's most potent video card yet, and you can hook up multiple FreeSync-enabled displays to get a 6K panoramic view if you have the desk space (and the depth of wallet). AMD is also pushing the R9 Fury X for virtual reality, with its AMD LiquidVR system promising minimal lag or blurring as head-tracking sensors do their thing.
If your pockets aren't quite up to the top-spec card, AMD has a fair few other options to choose between.
Sticking in the R9 series, there's also the Radeon R9 390X, at $429, the R9 390, at $329, and the R9 380, at $199. They, too, have DirectX 12 support and claim 4K resolution and the ability to drive up to six displays.
However, they don't get HBM, instead making do with more mainstream GDDR5: 8GB on the R9 390X and R9 390, and up to 4GB on the R9 380. There are 2,816, 2,560, and 1,792 stream processing units respectively, and each demands dual slots in your gaming PC.
Even more affordable again are the R7 variants of the 300 series. The R7 370, for instance, comes in at $149, while the R7 360 is just $109.
They also play nicely with DirectX 12 and drive up to six displays, as well as including 1,024 and 768 stream processing units respectively. Memory is 2/4GB of GDDR5 for the R7 370 and 2GB for the R7 360, and like their R9 siblings they occupy dual-slots too.
SOURCE AMD