AMD Project Skybridge due 2015 as Seattle gives first demo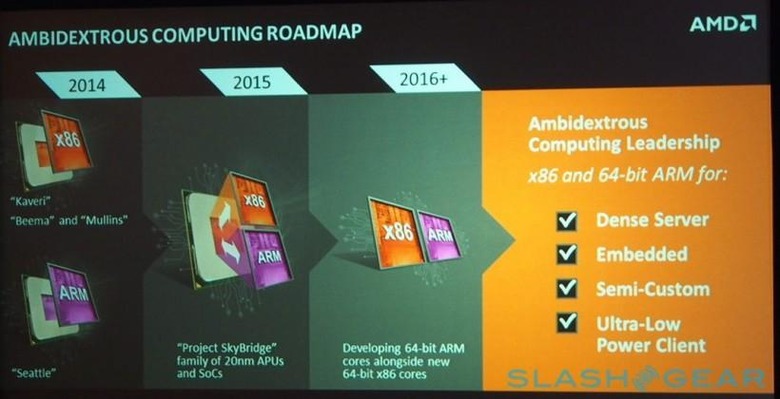 AMD has demonstrated its Seattle ARM-based 64-bit server chips for the first time, insisting that the days of x86 dominating the data center are numbered as it outlined "Project Skybridge" on the 2015 roadmap and beyond. Seattle, announced last year and shipping from earlier in 2014, eschews the usual x86 architecture for 64-bit ARM Cortex-A57 cores, capable of delivering streaming video, crunching big data, and hosting cloud services despite using a fraction of the usual power.
"It's all about volume economics, the hardware ecosystem, the software ecosystem," Paul Santeler, VP and GM of HP's Hyperscale Business Unit said of ARM's promise for servers. "TVs, smart thermostats, Kindle, you name it, it's probably got an ARM processor in it."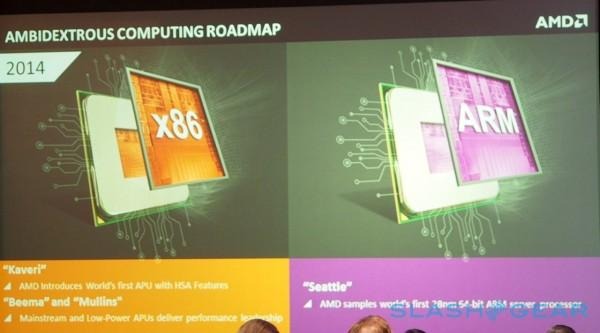 In fact, Seattle is seen as having particular advantages in so-called dense servers, where multiple platforms and services are expected to coexist on the same infrastructure. "They're very homogenous in how they build it," Santeler explained, pointing to Seattle's low power and heat output as ideal for that sort of installation. "They build it and then they scale it out as they need more capacity."
However, from 2015, Project Skybridge will be shaking up the chip market, offering pin-for-pin compatibility between x86 and AMD chips. The 20nm APUs and SoCs will use AMD's next-gen Puma+ x86 cores, as well as low-power A57 64-bit ARM cores, and is designed for full HSA support and AMD Graphics Core Next (GCN).
Project Skybridge will also be AMD's first Android-compatible heterogeneous architecture.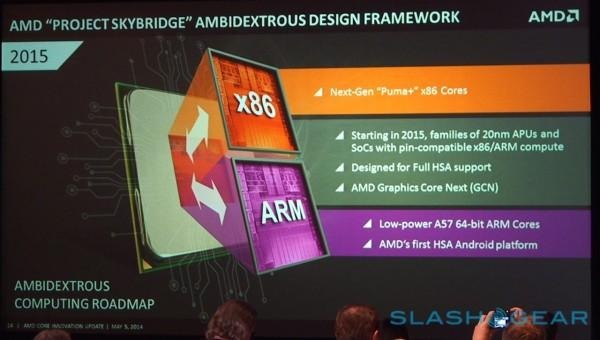 AMD is envisioning Project Skybridge as being especially valuable in embedded and client markets, where the flexibility to use a mixture of x86 and ARM chips across form-factors will be particularly appealing. "You may not use the same motherboard," Lisa Su, SVP and GM of AMD Global Business Units explained, "but you may use the same software and components."
Beyond the first iteration, meanwhile, will come AMD's own ARM chip designs. The company is now a licensed ARM chip designer, expecting to develop its own silicon from 2016 and beyond.