AMD Phenom II X4 995 in wild: easy 4GHz overclock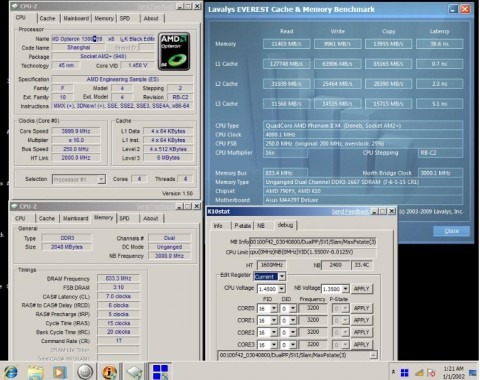 Screenshots confirming the existence of an unannounced AMD Phenom II processor have turned up on the XtremeSystems Forums.  The images confirm the AMD Phenom II X4 995, overclocked from 3.2GHz to 4GHz and used in a system running the Windows 7 beta.
According to the screenshots, the standard X4 995 hits 3.2GHz at 1.25V, but when pushed up to 1.45V – with standard air cooling, rather than anything fancy like water-cooling – and HyperTransport cranked to 250MHz from 200MHz, it reached an easy 4GHz.  No word on when AMD might be officially announcing the chip.
The chip is believed to be the replacement to AMD's planned 3.1GHz Phenom II X4 950, which was expected to arrive in Q2 2009.  According to rumors, AMD canceled that unreleased processor after "better-than-expected yields".
If the link to XtremeSystems above doesn't work (as it didn't at time of writing), Google's cache shows the benchmarking results.
[via The Tech Report]