AMD 3.1GHz Phenom II X4 950 CPU coming Q2 2009?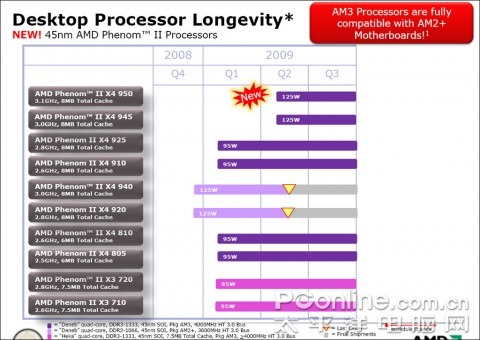 AMD could be preparing a new 3.1GHz Phenom II processor, for launch in Q2 2009, in the shape of the Phenom II X4 950.  The chip, which is mentioned on a slide purportedly leaked from AMD themselves, has 8MB of total cache (which The Tech Report suggests could be split as 6MB of L3 and 512KB of L2 per core) together with a 125W thermal envelope, support for DDR3 1333MHz memory, and a 4GHz HyperTransport interface speed.
The Phenom II X4 950 would be launched alongside the 3GHz Phenom II X4 945, believed to be a Socket AM3 version of the Phenom II X4 940.  Meanwhile a number of slower Socket AM3 processors would switch from 125W to 95W thermal envelopes, boasting up to 2.8GHz clock speeds, compatibility with Socket AM2+ motherboards, and playing nicely with older DDR2 memory.
The rumors have prompted no small amount of surprise, with some wondering what exactly AMD have been doing in the 3-6 months since their last speed update.  AMD today announced 1,100 job cuts, together with mandatory pay reductions for its North American employees.