AMD Opteron live server migration video demo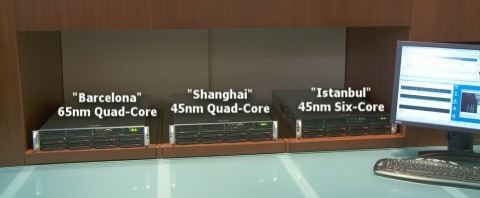 AMD have demonstrated live-migration across three different servers, each time completing without restarts or even significant pauses for an end user.  The demonstration used VMware ESX 3.5 virtualization, switching the server in real-time from between a Barcelona 65nm quad-core, to a Shanghai 45nm quad-core, and finally to an Istanbul 45nm six-core. Video demo after the cut
That might not sound like much, but it has broad implications for domain managers or those responsible for IT scaling in business.  All three of the servers used are commercially-available and not using any prototype or in-house software to facilitate the changes. 
The six-core Istanbul 45nm AMD Opteron has 6MB of L2 cache and Socket-F compatibility HyperTransport, support for two channels of DDR2 memory, per socket and the same 2P, 4P and 8P infrastructure as the existing Opteron range.  The processors are expected to launch in the second-half of 2009.
Press Release:
AMD Demonstrates Live Migration between Three AMD Opteron™ Processor Generations with Industry-Leading Virtualization Capabilities

Microsoft, Sun Utilize AMD-V™ Technology to Drive Leading Virtualization Products and Performance

SUNNYVALE, Calif. — March 24, 2009 –Continuing its momentum and leadership in virtualization technology, Advanced Micro Devices, Inc. (NYSE: AMD) today released the first video and images demonstrating live migration across three generations of AMD processors on VMware ESX 3.5, including the Six-Core AMD Opteron™ processor code-named "Istanbul." Live Migration of virtual machines across physical servers is key to providing superior flexibility for managing today's data centers. Additionally, AMD is highlighting its continued, cooperative development efforts with Microsoft as evidenced in Windows Server 2008 R2 Hyper-V™, which is available today as a beta and adds support for AMD-V™ technology with Rapid Virtualization Indexing. The new 45nm Quad-Core AMD Opteron processor provides scalable performance for both Windows Server 2008 Hyper-V and Microsoft Hyper-V Server 2008 and has received support from all four global OEMs.

"The AMD ecosystem of hardware and software partners like Microsoft, Sun and VMware illustrates a strong confidence in the advanced virtualization capabilities AMD-V offers," said Margaret Lewis, director, Commercial Solutions, AMD. "Enabled in part by RVI, Live Migration across our 65-nm and 45-nm Quad-Core and upcoming Six-Core AMD Opteron processors provides further evidence of the flexibility of AMD-V technology for data center customers upgrading their systems."

Last week Sun Microsystems posted a new 8P, 32-core world-record result on the VMmark benchmark, measuring the performance and scalability of applications running in virtualized environments based on VMware products. This top VMmark score was achieved on a Sun Fire™ X4600 M2 server powered by Quad-Core AMD Opteron processors. More information on leading VMmark scores for 2P, 4P and 8P AMD Opteron processor-based systems can be found at http://links.amd.com/a3zb.

About AMD

Advanced Micro Devices (NYSE: AMD) is an innovative technology company dedicated to collaborating with customers and partners to ignite the next generation of computing and graphics solutions at work, home and play. For more information, visit http://www.amd.com.