AMD Kabini and Richland fight Intel for mainstream and performance notebooks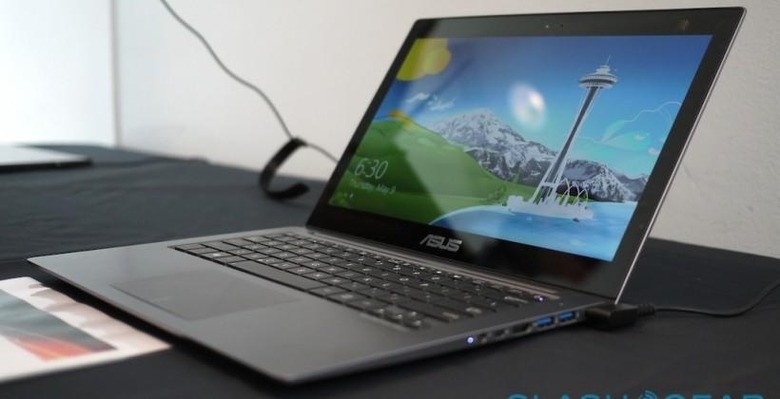 It's all-change for AMD's APU line-up for mainstream and performance notebooks in 2013, as the company attempts to hit Intel where it hurts with chips that, bang for buck, offer more performance from less power. That's the claim, anyway, and Kabini – for the mainstream – and Richland – for the performance end – are the processors that are expected to deliver it. Among the boasts are the first ever quadcore for small-display touchscreen notebooks, and up to 72-percent of the gaming performance than Intel's comparable chips.
AMD Kabini
Kabini is AMD's mainstream platform for portables in 2013, targeting small touchscreen notebooks as well as entry-level laptops. The company is making a big push for battery life, with machines running the new APUs apparently capable of up to 10hrs of resting runtime, or over 9hrs of web browsing. Even playing Full HD 1080p video, they should be good for more than 6hrs of use.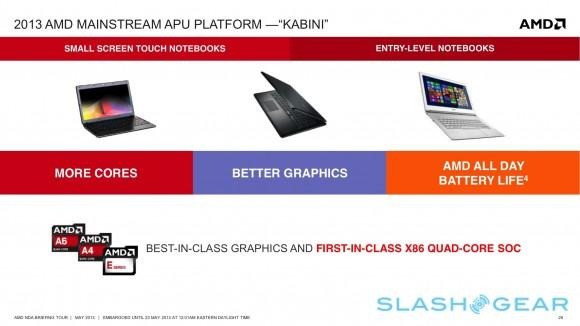 The single-chip SoCs use Jaguar cores with 2MB of shared L2 cache, and come in 9W to 25W TDP variants. Each supports two simultaneous displays of up to 4096 x 2160 resolution, with DisplayPort 1.2, DVI, and HDMI 1.4a output capabilities. Other connectivity includes provision for up to eight USB 2.0, up to two USB 3.0, two SATA Gen2/Gen3, and an SD card reader.
There's also AMD's Steady Video technology, for smoothing out jerky camera footage, and AMD Perfect Picture HD, which does real-time processing of on-screen graphics to bring out the best contrast and colors. Compared to last year's chips, the new Kabini E1, E2, A4, and A6 APUs offer up to an 88-percent boost in performance.
AMD Kabini Mainstream APUs
AMD Richland
As for the performance end, AMD is taking on Intel's Core i3 and Core it with the new Richland series of APUs, replacing Trinity in the process. They offer up to 71-percent better graphics abilities than the Core i5, AMD claims, while still being capable of over 10hrs resting battery life or 7.5hrs of web browsing.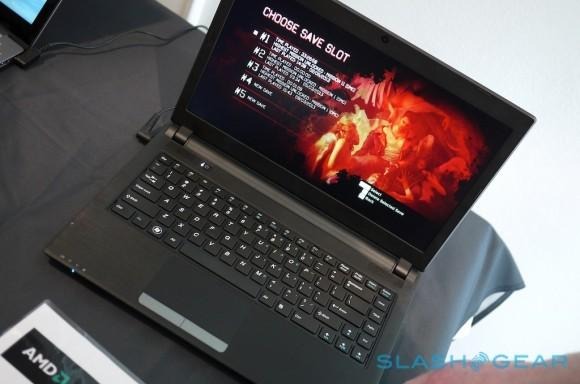 Compared to Trinity, overall performance is up by up to 19-percent, the company claims, while graphics performance is improved by as much as 40-percent. The A8 gets gesture control and face login, for chip-level biometric security, as well as AMD Screen Mirror for wirelessly pushing graphics to a nearby TV. The A10 throws in game bundles, a strategy AMD has tried with success before, including a number of games with each qualifying PC purchase to show off the abilities of the APUs.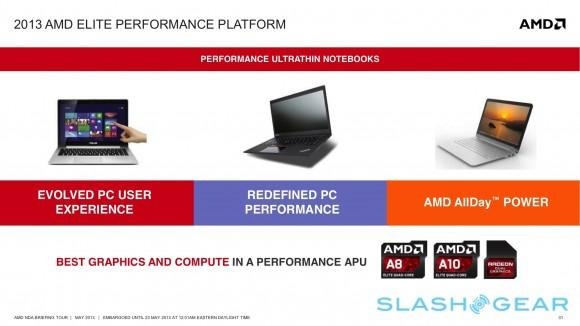 There's also provision for AMD Dual Graphics, with the onboard GPU in the Richland chips capable of working simultaneously with a discrete GPU from the company's Radeon HD 7000 or 8000 series. That should make for ultraportables that can still put in some solid gaming, AMD claims.
The first notebooks running AMD Kabini and Richland APUs will show up in the coming months.
AMD Richland Elite APUs