AMD DirectX 11 graphics cards on market by December holiday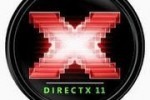 AMD have been discussing the impact of DirectX 11 and the benefits of its latest graphics chip, set to appear on video cards in time for the December holidays.  According to AMD, transcoding video using the chip will be three times quicker than using the CPU, and will offer automatic conversions without requiring the user to mess with codecs or resolutions.
In a demonstration, AMD showed how a user could drag a video file to a PSP and have the clip automatically transcoded into the correct format automatically.  Of course, DirectX 11 will also have an impact on gaming, with the Microsoft standard's new tessellation, multithreading and compute shader.
AMD also talked about their attempts to encourage manufacturers to switch to using 3DMark06 for their battery testing, which simulates use with a more active profile compared to the more typical MobileMark07 testing that shuts off wireless, dims the display and limits the CPU to around 7-percent (in contrast, 3DMark06 sets it to 47-percent).  They also outlined their expectations for netbooks, which they see as remaining a minority in comparison to ultrathin notebooks that fit just underneath a MacBook Air.