AMD boasts record Q1 revenue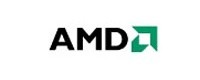 It's nice to see things looking up for the computer industry. I mentioned yesterday that Gartner has issued its report on the computer industry for Q1 2010. Intel has also announced its best quarter ever for Q1 2010. AMD is getting in on the good news action now too.
AMD has posted record profit for Q1 2010 with $1.57 billion in revenue and $257 million in net income for the quarter. Compare that to Q1 2009 where revenue was $1.18 billion with net income at a $416 million loss and AMD looks very good right now.
The company also has its 6-core processor line coming that should appeal to users looking for the new 6-core parts, but not wanting to pay the higher prices that Intel gear carries. Gross margin for AMD over the quarter was 47%. It's nice to see AMD making a comeback; we need all the competition we can get in the market. I wish AMD would start competing on pure performance as well as price though.