AMD ATI FirePro V9800 4GB gets official: $3,499 of pro graphics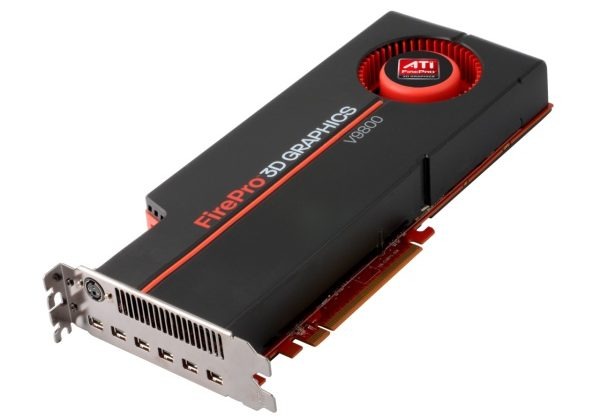 AMD has outed its latest professional graphics card, the ATI FirePro V9800, with a full 1,600 stream processors and whopping 4GB of GDDR5 memory.  The FirePro V9800 has six Mini DisplayPort outputs – using ATI EyeFinity to drive the half-dozen displays – and supports DirectX 11, OpenGL 4.0, ATI CrossFire Pro and a 256-bit memory interface.
While the V9800 is based on the same Cyprus GPU as AMD used in the V8800 professional card, here it's capable of 2.72 terraflops versus 2.64 terraflops in its predecessor.  Despite that – and despite having double the memory and more ports – it uses less power, down to 199W.
We're yet to see the first reviews come in, but AMD's own benchmarks suggest the FirePro V9800 slightly exceeds the V8800 in Viewperf 10 testing, but manages more than double what an NVIDIA Quadro 5000 could manage.  MRSP for the two-slot card is a hefty $3,499.
[via Phoronix]