AMD 3.4GHz Phenom II X4 965 Black Edition coming this week?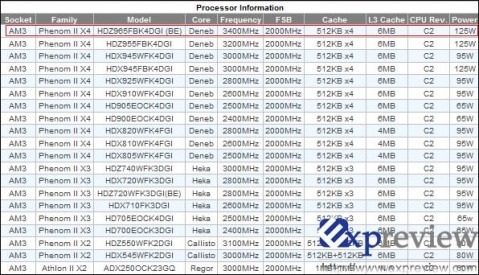 AMD are planning to announce a new flagship processor, the 3.4GHz Phenom II, to take on Intel's Core 2 Quad range, according to a number of sites.  The so-called AMD Phenom II X4 965 Black Edition has been spotted on the ASRock site, which seemingly confirms that it will have the same cache and 125W TDP as the Phenom II X4 955.
News of the unannounced chip has prompted speculation about pricing for AMD's new flagship.  Currently the X4 955 – the highest-spec CPU in AMD's Phenom II range today – is priced at around $245; Intel's highest-spec Core 2 Quad CPU meanwhile, the Q9650, is around $320.
AMD might choose to price the new 3.4GHz processor up near the Q9650, at least at first, before dropping it down so as to remain competitive when Intel begin delivering Lynnfield processors later in 2009.  Lynnfield chips will slot into Intel's i5 and i7 mid- and high-range processor lines.
[via The Tech Report]