AMD 2012 mobile GPU roadmap leaks: 28nm Radeon HD 7000M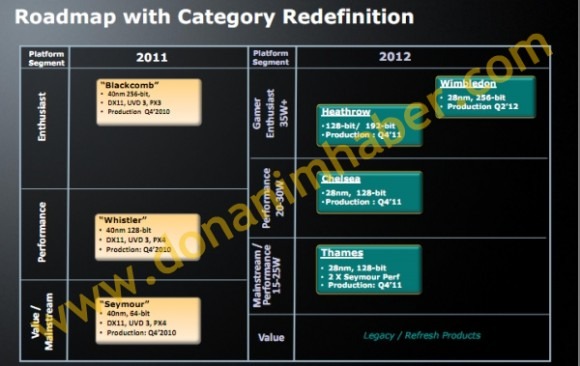 Details of AMD's 28nm mobile GPU roadmap have leaked, with four families of Radeon HD 7000M graphics chips specified for 2012. According to the document, passed to Turkish site Donanimhaber, AMD is readying mainstream, performance and gaming chips for notebook use: Thames, Chelsea, Heathrow and Wimbledon.
Thames is described as a mainstream GPU, with a 15-25W TDP, 128-bit memory interface, and twice the performance of AMD's current 40nm Radeon HD 6000M mainstream chip. Chelsea hits the 20-30W performance category, again with a 128-bit memory interface.
Heathrow and Wimbledon are the gamer/enthusiast chips, with 35W+ TDPs. Heathrow will offer either 128-bit or 192-bit memory interfaces, while Wimbledon will bump that to 256-bit. No sign of any performance estimates from AMD. Thames, Chelsea and Heathrow will all hit production in Q4 2011 and are expected to show up in products in early 2012, while Wimbledon will follow on later with production in Q1 2012 and a release further through the year.
[via Expreview]