Amazon's 'Kindle for Kids Bundle' comes just in time for summer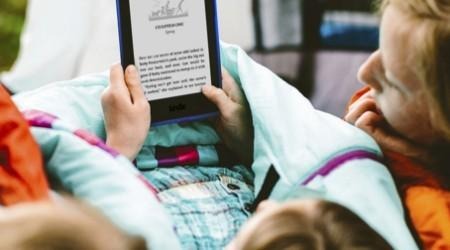 We may receive a commission on purchases made from links.
School's out for summer, which means that children will have a lot more free time, and their parents are going to have to find ways to entertain them. Amazon wants to be your solution to summertime as it introduces the "Kindle for Kids Bundle". Perfect for rainy days and long car trips, the package includes the latest Kindle, kid-friendly case, and 2 year warranty for $99.00. If purchased separately, parents would be spending about $40 more.
Keep in mind, this device isn't the Kindle Fire HD Kids Edition tablet that lets children play games and browse the internet. This Kindle is a dedicated e-reader, with a grayscale e-paper display. Unlike color display screens, the low energy screen's battery life can last up to four weeks. It has 4 GB of storage, making it capable of holding thousands of books.
Features that make it useful for parents include Kindle's "FreeTime", Amazon's method turning hours of reading into unlockable achievements, complete with badges. FreeTime also gives parents optimal control over their child's reading list. For example, a parent can pre-load their teen's summer reading list on the Kindle, and make sure they can only read Divergent after slogging through an hour of Moby Dick. When FreeTime is paired with other Kindle devices like the Fire HD, parents can block their kids from playing games or using the internet until they complete
Honestly, the "Kid's Bundle" would work just as well for adults, especially clumsy ones. The device isn't a specifically a child's device, although most adults probably meet their e-reading needs on their tablets. But, if you happen to be in the market for a dedicated e-reader plus a case and warranty, this bundle will save you some money–if you can swallow your adult pride and buy an e-reader marketed to children.
Source: Tech Crunch