Amazon's Fire HD Kids Edition: Rubber Bumpers, Free Replacements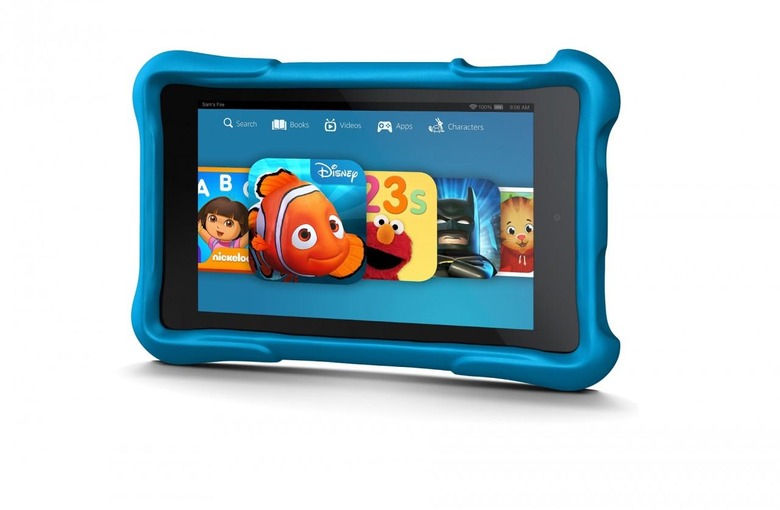 Amazon has introduced a slew of new devices tonight, not the least of which is the Fire HD Kids Edition — a powerful tablet Amazon says it made "from the ground up" specifically for kids. Its child-centric aspects include both design, which is understandably robust with bumpers, and content, which includes Amazon FreeTime Unlimited.
Kids tablets aren't anything new, but they usually have downsides, the biggest among them being a reduction in the quality of the hardware. Though made to handle the needs of kids, a child's tablet shouldn't have a cheap screen and slow processor. Amazon boasts that its Fire HD Kids Edition doesn't fall into that trap, featuring a quad-core processor, HD display, both front and rear cameras, and Dolby Digital audio, and more.
The maker hasn't detailed the specific hardware on board, but it says the slate is available with two display sizes: 6-inches and 7-inches. This is joined by a 2-year replacement warranty that Amazon says is "no-questions-asked" — if your kid breaks it, Amazon will replace it.
As mentioned, the tablet comes with a year of Amazon FreeTime Unlimited, which gives kids access to 5,000 pieces of media across multiple categories — books, movies, apps, etc. — for no charge. The tablet won't start shipping until next month, but both the 6-inch and 7-inch slates are up for pre-order now for $149 USD and $189 USD.
SOURCE: BusinessWire