Amazon rolls out Dash buttons for more than 50 new brands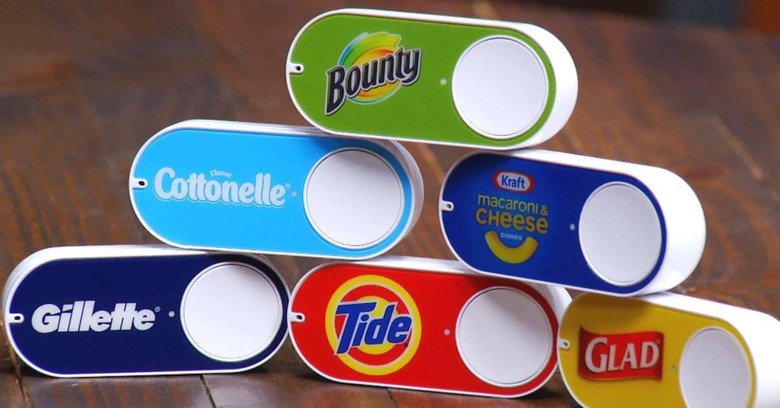 If you absolutely love Amazon's Dash buttons, then today is going to be a very good day for you, because more than 50 items are joining the Dash button lineup. That brings the total number of Dash buttons available up over 250, and at this point, it seems like there should be a Dash button for whatever household item you may need.
Today's new brands include everything from Seventh Generation paper towels and Colgate toothpaste to Hill's Science Diet treats and Men's Rogaine. The products you're seeing added today may not be as ubiquitous as some of the other household items that have been offered through Amazon Dash since the beginning, but these buttons should still find some new customers. Here's the full list of all the brands and products being added today:
Seventh Generation Baby Wipes

Seventh Generation Bath Tissue

Seventh Generation Laundry

Seventh Generation Paper Towels

Adamia

Ansmann

Babo Botanicals

Bausch & Lomb

Best Bully Sticks

BPI Sports

Canine Athlete

CELLUCOR

Cesar

Clorox Clean Up

Clorox Toilet Wand

Colgate

Dang

Don't Go Nuts

DRINKmaple

EAS

Emergen-C

expo Markers

FitJoy

Galiva Socks

Garden of Life

Glucerna

GURU Energy Drinks

Halo

Happy Little Campers

Hartfelt

Hill's Ideal Balance Treats

Hill's Science Diet Treats

Iams

Kingsford

KY

Lifestyles

Luseta

Men's Rogaine

My Kind Organics

NaturaNectar

Neutrogena

Nexium

Nutro

PACT Men

PACT Women

Passion Lubes

Petsafe ScoopFree

Poof

Raw Organic meal

Raw Organic Protein

Renew Life

ROC

Ronnie Coleman Signature Series

RXBAR

Sheila G's Brownie Brittle

Spectrum

Temptations

Vermont Smoke & Cure

Vet's Best

Vitamin Code

Women's Rogaine
What seemed like a silly idea at first has turned into something of a sensation for Amazon. New brands and products have been added to Dash at a decent rate since they were first introduced in 2015. On top of that, Amazon has been expanding Dash buttons into a number of different territories over the past six months.
However, physical Dash buttons are now only one part of the larger Dash ecosystem. Amazon recently rolled out digital Dash buttons as well, allowing Prime users to order items with one click without having to purchase the physical button first. That's a pretty big expansion on its own, and when paired with these new brands being added today, it's clear that Amazon is looking to bolster Dash in a big way.