Amazon Prime Video spells disaster for Netflix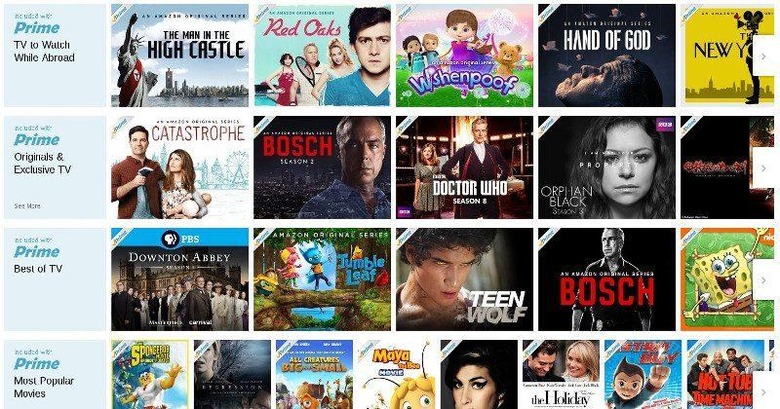 Amazon just recently announced their plans to allow customers to subscribe to their video streaming service for a monthly fee. This has understandably confused a lot of people. After all, subscribing to Prime Video on a monthly basis actually costs more than buying a regular Prime membership. But the move is actually a brilliant one by Amazon, and they couldn't have timed it better.
The new Prime Video service gets you access to the exact same content that Prime customers have access to. The price is $8.99 per month. If you total that up over a year, that adds up to $107.88. When you consider that Amazon charges $99 per year for a full Prime membership, you're paying almost $9 more per year, and not getting any of those extra benefits.
So why would anyone want to pay more money for fewer features? Well, first you have to pay attention to some other factors. The most important one being the fact that month, many Netflix subscribers will see their monthly bill go up from $7.99 to $9.99. These customers have been grandfathered into the old price for a while now, but that comes to an end when they pay their bill in May. Other users have already been paying $9.99 for the last couple of years.

When you directly compare prices for just video streaming between Amazon and Netflix, the move starts to make sense. Before offering the monthly subscription, you could only get Amazon's Prime Video service by coughing up $99 per year. That's a lot of money if you're not really interested in the other perks. Plus, there's no way to really test the water and see if there's enough content to keep you interested for an entire year. Sure, you can browse through the content before you subscribe, but it's still not the same as trying out all aspects of the video streaming service for a month. (You could always sign up for a Prime trial, but if you forget to cancel, you'll be charged the full $99 price.)
Because of today's announcement, many people will now see Amazon Prime Video as a viable alternative to Netflix. They'll be able to download an app, watch TV and movies, and they'll only need to commit to it for a month at a time. And the best part of all, they'll actually be paying less money than Netflix charges.
Money talks, but it's not the only deciding factor for users. Recently, it has come out that Netflix has 30% fewer titles now than it did just two years ago. If you head over to JustWatch, which helps keep track of what titles are available on different streaming services, you'll see that Netflix has 4,905 titles listed at the time of writing. Amazon Prime Instant Video has 8,439, currently.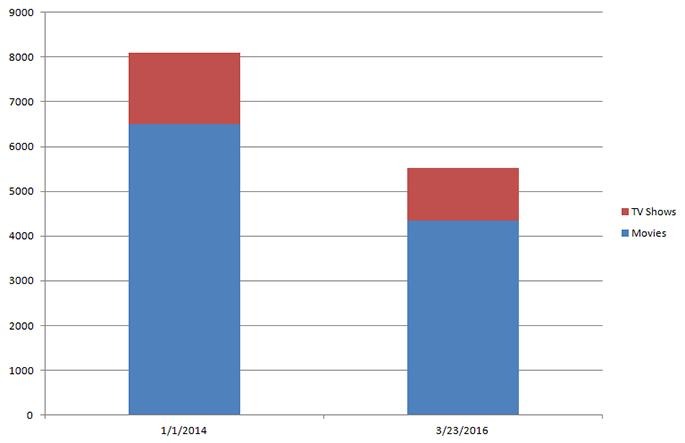 Netflix content comparison: 1/1/2014 vs 3/23/2016
There's no real way to compare the quality of content between the two services, as everyone has different tastes. Amazon definitely has the edge, when it comes to the sheer volume of content to choose from, as they have around 42% more shows and movies, according to JustWatch. Netflix does have a fair bit of exclusive content that people enjoy. However, if you're not into those shows, or you've already blazed through them, those shows might not be enough to keep you around.
So let's put these pieces together. Amazon announces a monthly video streaming service that you can get for $1 less than Netflix, per month. It has more content than Netflix, and it's already been around long enough to have native apps on many streaming devices and smart TVs. Suddenly a lot of customers who may not have had any interest in Amazon Prime Video have plenty of reasons to consider switching.
Once they've tried it out, if they like it, they can just keep on paying $8.99 per month. But what are all of these other perks of Prime? It's only going to cost an extra $2 per month (or $1 more per month than they were paying for Netflix) to check out music streaming, and free two-day shipping. That's a pretty easy jump to make. And if they like those perks, they can always save money by paying the $99 per year up front.
Once Amazon has you hooked on their $99 per year price, it will be very hard for customers to switch back to Netflix. After all, why pay more for less content, and fewer features? The only real answer is Netflix's catalog of exclusive content. That's really going to be one of the only things to keep users around, when they can get so much more from Amazon.
It will be interesting to see how Netflix responds to Amazon's latest offering. For those that have been Netflix-only customers, does Amazon's announcement make you want to consider switching over? Or is Netflix's catalog of exclusive content enough to keep you as a customer?