Amazon planning 8.9-inch Kindle Fire next say suppliers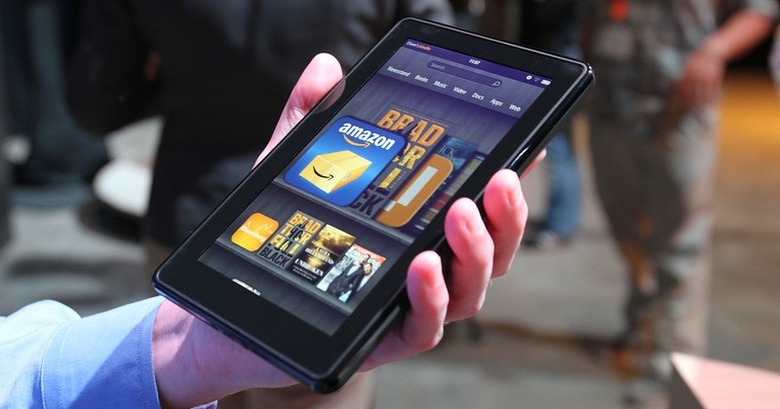 The next Kindle Fire ereader tablet in Amazon's line-up is likely to use an 8.9-inch touchscreen display rather than a 10.1-inch panel as originally expected, sources in the supply chain have revealed. While we've heard talk of a pair of tablets – one small, the 7-inch Kindle Fire shipping in little over a week's time, and one large, potentially arriving toward the end of the year – since the beginning of the Amazon rumors, DigiTimes's sources say the retailer has switched to a smaller screen and pushed a 10.1-inch version further back down the roadmap.
In fact, Amazon could have quite the spread of tablet sizes, potentially rivaling Samsung in the breadth of its range if the tipsters are correct. The company is believed to be considering 9.7- and 10.1-inch models, though it seems unlikely that it would opt for both those sizes since the resulting slates would be so close in size.
LG Display and CPT, both suppliers of the 7-inch LCD in the Kindle Fire, will apparently also be supplying Amazon with its 8.9-inch screen. They're reportedly already preparing production to meet Amazon's demand.
It's unclear what the motivation behind Amazon's design decision change has been, though manufacturing issues could well be a part of it. Currently 7-inch, 9.7-inch and 10.1-inch displays are the most common, with Apple absorbing most of the 9.7-inch supply while many Android tablets occupy the 10.1-inch bracket. 8.9-inches has been a less saturated niche, and so Amazon could be more confident at securing the sort of bulk display order that it will presumably need as it tries to push its tablets on the mainstream market.
The Amazon Kindle Fire begins shipping on November 15. More details in our launch event coverage.