Amazon Phone "Smith" tip appears with 3D interface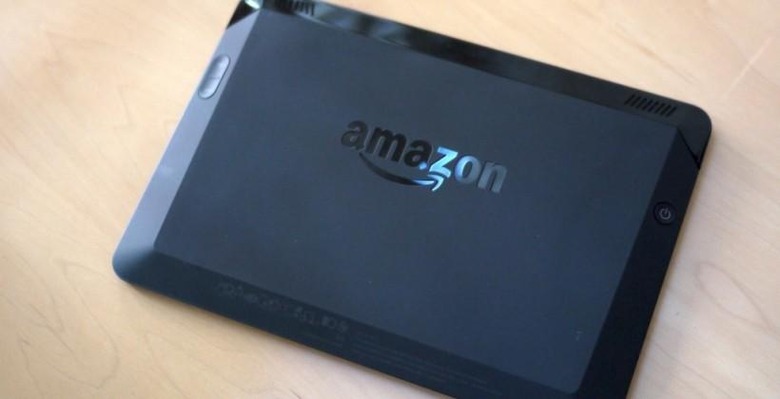 There's little doubt at this point that there's an interest in the public in what would essentially be an Amazon Android-based smartphone with a structure not unlike that of the Kindle Fire series of tablets. What we're seeing today is the newest in a long line of rumors in what would almost certainly be a Fire OS (Android-based) operating system running on an Amazon smartphone. Here the newest tip suggests that there will be two, not just one, smartphones working in the near future, the more high-end iteration to be code-named "Smith".
This rumor collection comes from the likes of a fellow by the name of Helvodka who lays the information down in Hacker News. This in and of itself wouldn't be enough to blast a story as it's just about as anonymous as it gets, but it would appear that TechCrunch has a source of their own to coroborate. Together these reports appear to show two models: one higher-end model with a 3D user interface and several front-facing cameras that allow eye-tracking, the second a lower-end Amazon phone made to be releases for cheap or free – despite earlier reports suggesting no such device exists.
The cheaper device is said to follow the track of the Kindle Fire tablet lineup. In this case, this means that it'll be making up for price of product with heavy emphasis of in-device purchases from Amazon's app store and media collection. This device will likely be working with image recognition software that allows the user to identify products in the real world and see them instantly on Amazon.com, allowing them to purchase and have shipped to them the objects with ease.
The more expensive of the two devices is said to – currently – be aiming for a four-camera setup up front with next-generation 3D imagery inside. Unlike the 3D smartphones released in the last few years – like the LG Optimus 3D Max, the LG Thrill 4G, and the HTC EVO 3D – the Amazon "Smith" project will have software which works with eye-tracking hardware which, in turn, allows the 3D image on the screen to be delivered on a level not yet seen in the wild.
You'll find the Wall Street Journal report from September 6th to be bringing on the heat with several of these rumors with essentially the same details. It was quickly doused by Amazon in so many words, suggesting not a whole lot about the more expensive model, but suggesting that there would be no Amazon smartphone at all in 2013, and that any Amazon smartphone released would never be entirely free.