Amazon mystery locker appears, event teased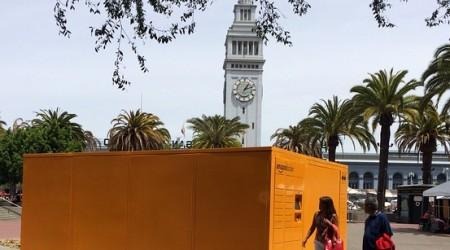 Amazon has elected to be a tease, parking a massive yellow locker in San Francisco. What's in the locker? Nobody knows, and the company isn't giving away hints. Fortunately, we only have to ponder until tomorrow, at which point the hidden product will be revealed.
The locker was spotted under construction earlier today near the Ferry Building in San Francisco, being parked in a plaza with no other items or clues about what it might be. It's apparently part of an event the retail giant has planned for tomorrow.
It has been said the delivery locker is large enough to fit a small vehicle, and so mumbles abound regarding the retailer's delivery network and whether there is a small delivery car set to be unveiled from within the locker. Such is merely speculation at this point, as nothing is confirmed.
Of course, the locker could also hint at a new announcement regarding its locker service or its delivery service in general. As always, we'll update you once we know more details, so stay tuned. Hit up the timeline below for other recent Amazon news.
SOURCE: The WSJ