Amazon leaks tablet plans with propaganda poster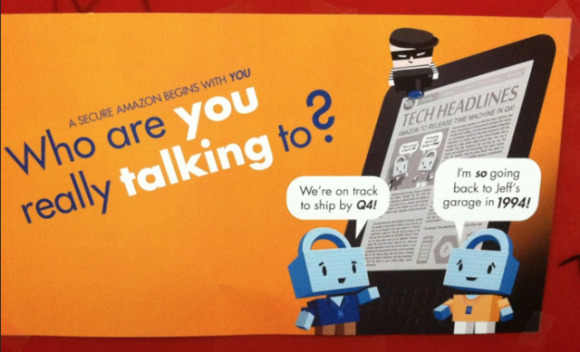 It would seem that Amazon's newest internal mantra is "loose lips sink ships" as a propaganda poster – likely one of many – has been photographed and send in to the tech press the company is hoping to avoid. Send in to TechCrunch by what we must assume is an Amazon employee is this photo of a poster which shows a couple of lock-headed characters speaking about a Time Machine that Amazon will be releasing in the future – above them sits a thief/villain tech reporter who appears to have collected their secret speech and published it immediately thereafter. "A Secure Amazon Begins With YOU" encourages the poster.
This burglar is snapping photos from behind an e-reader you'll all recognize and the "Tech Headlines" blog his work has been published in lets it be known that Q4 will be the place for the machine's delivery. Amazon wants no such news to be released before they're prepared to release it, of course, thus the poster was born. The poster also warns employees that they're in for a world of hurt if they don't recognize: "Who are you really talking to?"
Of course this poster also pops up right before a press event that'll be taking place on the 6th of September in California. There we expect that we'll be seeing at least one Amazon e-reader device of some kind or another as well as some updates to their online store initiatives. The poster all but confirms that we'll be seeing more slate devices in the very near future, and makes it clear that a time machine will not be popping up in Q3, unfortunately.
Stay tuned as SlashGear keeps on the path of the next generation and Amazon attempts to stopper up all of their future leaks.