Amazon Kindle To Slim Down This Summer, Add Sharper Display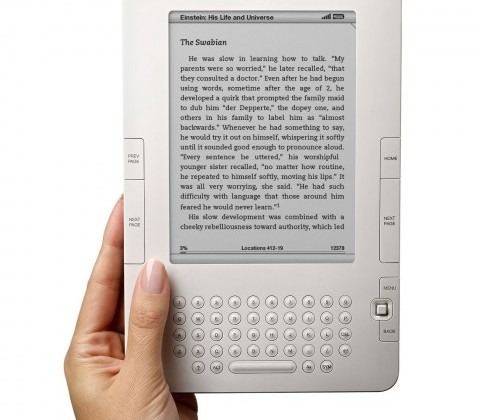 As the iPad flies off the shelf globally now, it would seem that Amazon would need to get on the ball about offering some kind of new Kindle here soon. Even if their software eReader is already on the Apple tablet, and heading to Android soon enough, new hardware always speaks volumes to new customers. According to some sources speaking with Bloomberg, it looks like Amazon is getting ready to unveil a new Kindle. And it may be shedding a few pounds for the Summer season.
Two people familiar with the matter told Bloomberg that the online retail giant has plans set in motion to unveil a new thinner Kindle some time in August. While it may have less in stature compared to the Kindle available now, it will also acquire a sharper screen, according to the sources. There's not much else to go on here, other than what these two folks have already said, but if we're going to take what Amazon CEO Jeff Bezos said earlier in the week very seriously, and he has indeed seen Kindle prototypes in the laboratory that are not "quite ready for production," then it seems a few months for now that could change.
Even if the Kindle application is doing well for itself where you can download it, Amazon would be remiss to not introduce a new piece of hardware here soon. That could even mean just a different color. And, while a color screen would be better, we already know that's not coming for awhile. So, if the Kindle does slim down, are you going to get yourself one, if you haven't already?
[via CNET]