Amazon Kindle Fire Whispersync introduced with Anne Hathaway and Samuel L Jackson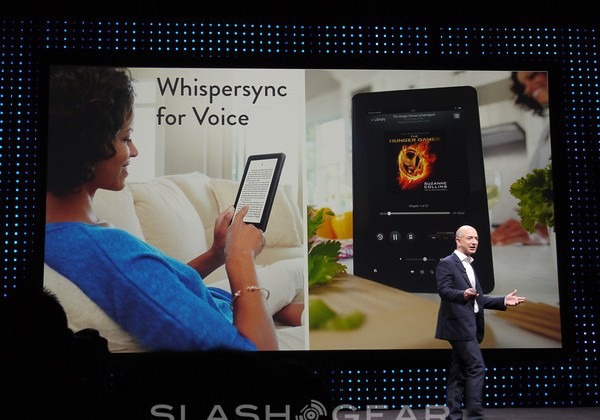 If you ever sat there reading an e-book to yourself and thought, wow, I wish I could read this book out loud while Samuel L Jackson read it out loud with me – Amazon says you're in luck. This week along with the new Kindle Fire HD line and refresh of the original Kindle Fire, they've shown off a technology called Whyspersync for Voice – this brings on Bimodal reading for those who have difficulty reading and for high-functioning readers alike. This technology, in a nutshell, syncs your audiobook and the text from the book you're looking at so you can listen and read at the same time.
This technology was shown off on the new Kindle Fire HD series this week by Amazon with a couple of celebrities in tow. Both Anne Hathaway and Samuel L Jackson were shown up on the big screen, with Jackson specifically reading "A Rage in Harlem." With Immersion Reading – here with Whispersync – you'll be changing the way you read electronic books.
This new ability brings on what Amazon prosmises will be dual-sensory reading, this improving your understanding of the content. You'll be hearing the words as they're highlighted on the screen – and it will, if Amazon has its way, bring you another giant reason why it makes sense to pick up the newest Kindle Fire HD hardware – coming in October, on the way! Check out the rest of our Amazon and Kindle Fire content from this week's big event in the timeline below, and stay tuned to SlashGear for more hands-on action as it appears!