Amazon Kindle Fire HDX 8.9 Review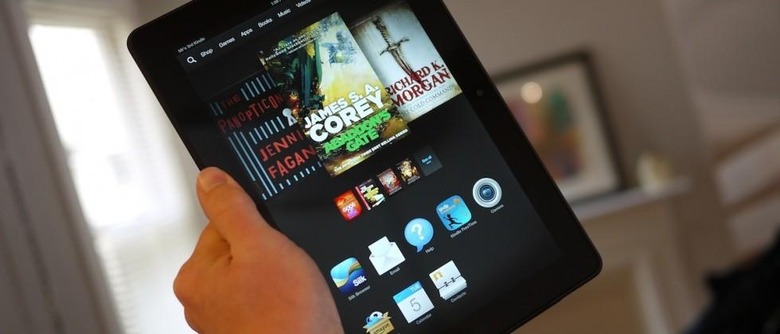 The Kindle Fire HDX 8.9 is the second half of what Amazon hopes will be a one-two knockout punch to rival tablets, sliming down the last-gen Fire HD 8.9 and boosting speed and screen resolution in the process. As we found with the 7-inch Fire HDX, that can make for a compelling slate if you're already onboard with Amazon's ecosystem, but with a bigger price along with its bigger screen, does the 8.9-inch version hit the same sweet spot? Read on for the SlashGear review.
Hardware and Design
The family resemblance between the two Fire HDX tablets is clear. Amazon's largest slate is clad for the most part in the same soft-touch black coating as the 7-inch version, with only the glass front and a glossy black plastic trim on the rear to break things up. It's considerably lighter than the previous generation Fire HD, now a mere 9.1 x 6.2 x 0.31 inches and 13.2 ounces, making it in fact thinner than the 7-inch HDX too.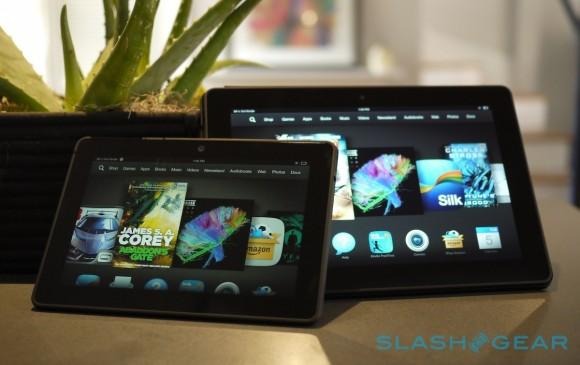 Hardware controls are limited to a volume rocker and a power/standby button on the rear, pushed out toward the edges of the tablet. There's a set of stereo speakers integrated into the shiny, fingerprint-loving plastic, too, along with a rear camera.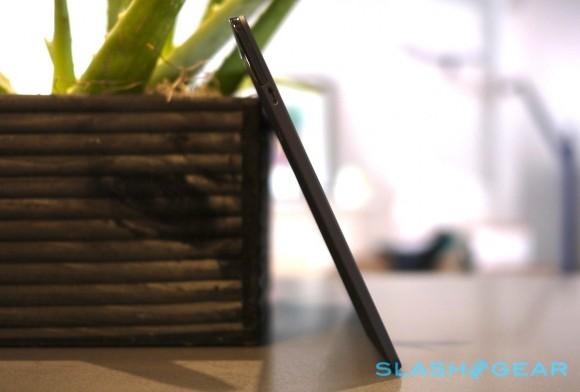 It's a more subtle aesthetic than, say, Apple's iPad Air, though it's hard not to be impressed when you first pick it up and experience quite how thin it is. The iPad Air does have the Fire HDX 8.9 beat on overall thickness – Apple's tablet is 0.29-inches thick – but the Amazon slate's more pronounced taper to the edges leaves it arguably feeling thinner in the hand.
Specifications
Despite the reduced dimensions, Amazon hasn't stinted on performance in the new Fire HDX. In fact, it's a considerable step up from the version that came before it: there's now a quadcore 2.2GHz Snapdragon 800 processor running the heavily customized Android OS, along with 2GB of memory and a choice of 16GB, 32GB, or 64GB of internal storage.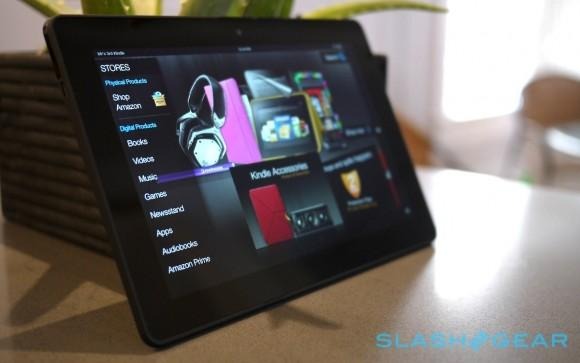 The crowning glory is undoubtedly the display, however. The Kindle Fire HDX 8.9 has one of the highest resolution panels we've seen on a tablet, running at a whopping 2560 x 1600 for a total pixel density of 339ppi: in contrast, the iPad Air tops out at 264ppi. In short, it's an incredible LCD IPS screen, with superb viewing angles and detail so fine that ebook text effectively looks printed rather than electronic. 100-percent sRGB color accuracy leaves photos looking incredible, as well as us disappointed that Amazon continues to leave out a memory card slot, since the Fire HDX would be ideal for reviewing images from a DSLR.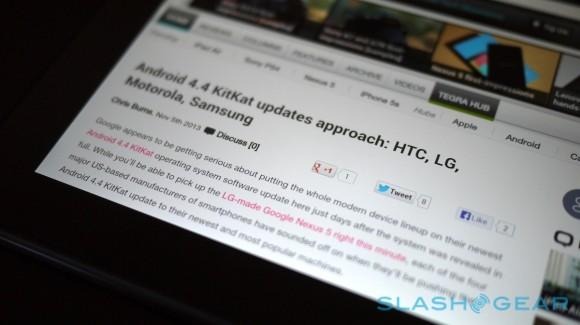 Like the smaller HDX, the larger version has the same dynamic contrast system that adjusts not only brightness but pixel color depending on ambient lighting conditions. That means that, where rival tablets simply get brighter when you take them outdoors – and are still often difficult to make out – the Fire HDX 8.9 actually changes the contrast of the display to maximize visibility. It's certainly better, though those looking for the best outdoor performance should still look to epaper rather than LCD.
In all, though, it's hard to over-praise the Fire HDX 8.9's screen. Touch response is immediate and video looks particularly good, especially given you're getting Full HD support (with pixels to spare, in fact). Eventually, with an upcoming firmware update, there'll be Miracast streaming to a compatible TV or display; for the moment, though, content is locked up on the tablet itself.
Connectivity includes dual-band, dual-antenna MIMO WiFi, together with Bluetooth, and optional 4G LTE with a choice of Verizon or AT&T support. Unfortunately, where the iPad Air can be used on either carrier's 4G network, you'll need to pick upfront with the Fire HDX 8.9. A microUSB port is on the side, but there's no HDMI output for hooking up an external screen.
Multimedia, meanwhile, is served by a set of dual stereo speakers, 3.5mm headphone jack, and Dolby Digital Plus audio support, while dual microphones are also included. The front camera records at up to 720p HD, while on the back there's an 8-megapixel camera with an LED flash, digital image stabilization, and an f/2.2 lens. Inside are the usual accelerometer, gyroscope and – on the 4G model – GPS.
Software and Performance
Amazon's Fire OS is at the heart of the Kindle Fire experience, a deeply customized and modified version of Google's smartphone and tablet platform that has been specially fettled to put the retailer's content at its heart. Gone is the Google Play store, and Google Music, and all the other software you'd find on, say, a Nexus 7, replaced by Amazon's versions.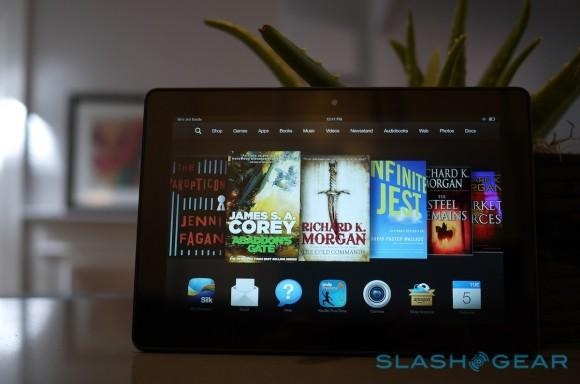 The result is a tablet suits perfectly anybody who would automatically turn to Amazon for their ebooks, music, movies, apps, and shopping. In the same manner, it's entirely not the hardware for anybody who likes to shop around for their digital content, since the ways in which that can be loaded are generally cumbersome, and you subsequently miss out on the advantages of Amazon's cloud sync support.
Overall, the software is exactly the same as we experienced on the Kindle Fire HDX 7. The homescreen has a smooth-running carousel of content, treating ebooks and albums in the same individual way as apps might be. Underneath – and expandable with an upward swipe is an app drawer showing everything installed, while running across the top of the screen are links to the various sections of Amazon's store.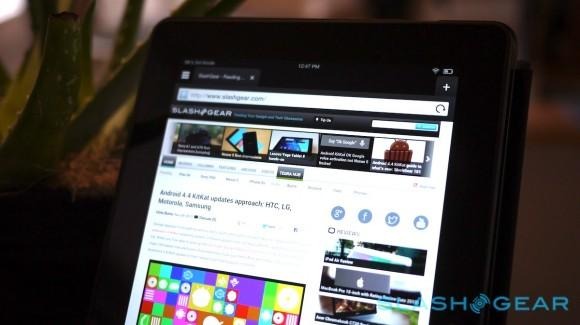 Pulling down the notification shade offers up a few shortcuts to toggle screen rotation, brightness, wireless power, and jump into the settings. It's also where you'll find Amazon Mayday, the company's on-device customer services support system, which puts a real help desk person in a thumbnail video window on your Kindle's display. Not only can they advise on technical issues, like setting up the child lockdown features to limit access to certain apps at certain times, but annotate the display to indicate where users need to be looking, or even remotely take control of the Fire HDX 8.9 and make the changes themselves.
More adept tableteers might roll their eyes at Mayday, but it's a compelling enhancement for those less comfortable with technology. Just as Apple has its Genius Bars, Amazon's direct-to-consumer sales approach makes accessing an expert easy (in fact, even easier than it is if you have a question about your iPad), and that could make a big difference if you're shopping for a tablet for your parents or less tech-savvy family.
Amazon Mayday demo:
To test the theory out, we handed the Kindle Fire HDX 8.9 over to one of our more gadget-apathetic friends and asked them to set up some of the basics on the tablet. With Mayday, tasks like loading email and contacts accounts, Kindle FreeTime, and installing apps were completed in a few minutes.
Unfortunately, some of Amazon's other headline features for the Fire HDX line-up still aren't enabled as yet. Eventually, there'll be second-screen support for those with a PS3, PS4, or Samsung Smart TV, with the ability to begin playback on the tablet and then "flinging" it over, leaving the HDX 8.9 free for browsing, email, or navigating through X-Ray for Movies and TV, which includes actor information (popping up on the tablet when they appear on-screen), music, and goofs and information pulled from IMDB. At the moment, you get the X-Ray content on top of the tablet playback instead.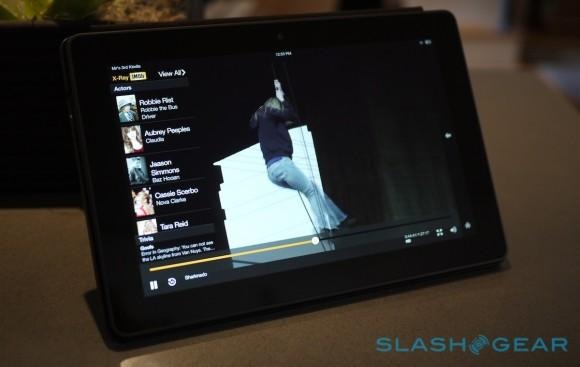 Second Screen isn't ready for us to test as part of this review, though we did have the opportunity to experience it in Amazon's demo labs. There's a brief pause when you select the TV for playback, and then whatever content is running simply picks up on the new screen. Unfortunately, there's no way to load your own video to Amazon's cloud and view it in the same way, so if you've recorded video using the Fire HDX 8.9's camera, you can't play it back while simultaneously using the tablet for something else.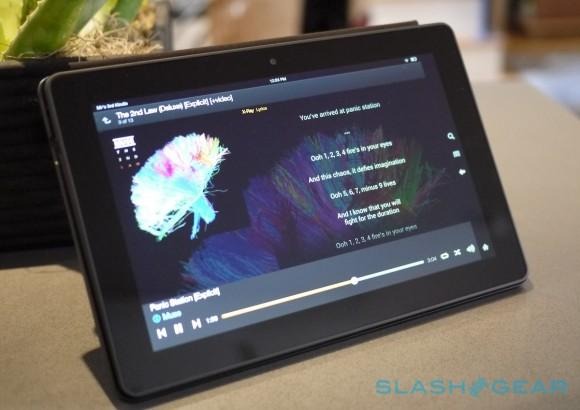 X-Ray for Music, meanwhile, pulls lyrics from compatible songs and scrolls them alongside playback, with the ability to jump to specific points in the song depending on which lyrics you tap. There's also offing playback for select Prime Video titles, as we saw on the 7-inch Kindle Fire HDX, with the option to choose SD, 720p, or 1080p quality; the latter looks great on the 8.9-inch display, though if you've a 16GB or even 32GB model you'll find they fill up quickly. We still wish Amazon included some sort of indication in the video browsing view as to which titles support offline playback and which don't.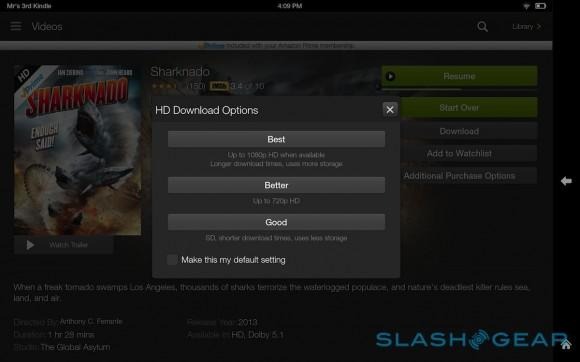 What we can't fault is the Fire HDX 8.9's performance. Just as with its smaller sibling, the Snapdragon 800 processor keeps things moving along at a rate of knots, with no lag when moving between apps, and enough power to run even the most ambitious first-person shooters and racing games on Android today.
Camera
Amazon opted to leave a rear camera off the 7-inch HDX, arguing that users would be more likely to turn to their smartphones for photography than pull out a tablet. That's not the case on the HDX 8.9, however, which has both front and rear cameras.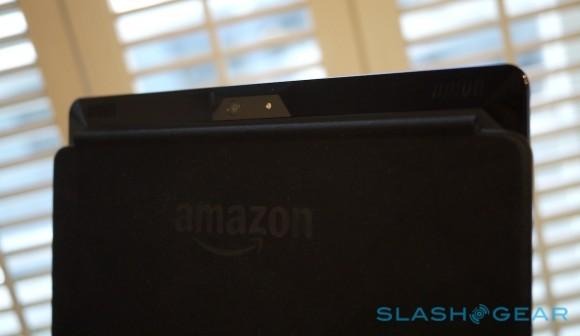 On the back, there's an 8-megapixel camera with f/2.2 optics, and digital image stabilization. It has an LED flash, too, along with HDR and panorama modes, and you can take photos while simultaneously recording video. Tap to focus allows you to set focus and exposure anywhere in the frame.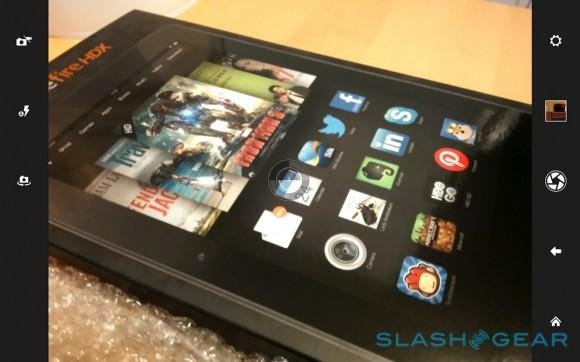 The Fire HDX 8.9's party trick is in how it auto-loads the camera app when you slide the tablet up in Amazon's Origami Case: magnets click it into position with the lens poking out the top, and the app automatically runs even if the slate is locked. As on the smaller HDX, the Origami Case also folds magnetically into a stand good for both portrait and landscape orientation.
Photos are reasonable, but not outstanding. When supplied with sufficient light, the Fire HDX 8.9 can deliver a solid shot, and it handles close-ups well as long as your hands are stable: despite the digital image stabilization, we had a few macro images spoiled with blurring.
Lower light pictures, or scenes with significant differences between light and dark sections, are less successful, however. Amazon's HDR mode is heavy-handed, too; as the sample images below show, they err on the side of comically colored, with no way to tone down the effect and simply use it to bring out the overall clarity.
As for video, it's passable but doesn't hold up to the better smartphones we've seen recently. Audio pickup is good, but colors are muted. We had some issues with tap-to-focus, too, especially in lower-light conditions, with the Fire HDX 8.9 sometimes struggling to focus on anything at all and instead leaving the scene blurry.
Battery
Amazon quotes two figures for Kindle Fire HDX 8.9 runtime, either 11+ hours of general use – including browsing over WiFi, watching video, listening to music, and reading – or around 17 hours of reading alone. That's because of a special low-power mode for the processor and memory that the HDX range can drop into when the Kindle ereader app is running, cranking back the performance since only a bare minimum is required for handling book duties.
In practice, with our own mixed use – including push email turned on, but WiFi-only since our review unit does not have LTE support – we saw between 9 and 10 hours of runtime on average.
Wrap-Up
The Kindle Fire HDX 8.9 is undoubtedly the best tablet in Amazon's range, and arguably the best tablet the company has released to-date. The design may be on the sober side of discrete, rather than the more premium-feeling metal of some rivals, but it's a solid and slimline device nonetheless. What can't be understated is the quality of the exceptional display, setting a new benchmark for mobile devices.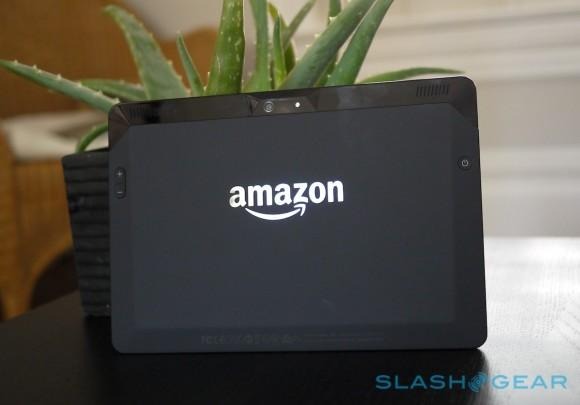 The limiting factor, then, is not the hardware but Amazon itself. So closely is the Kindle Fire HDX 8.9 tied into the retailer's digital ecosystem – whether it's with books, videos, music, Prime membership, or just shopping through the store – if you're not willing or able to devote your e-shopping to Amazon, the whole experience falls apart. Yes, it's a great tablet for browsing on, and you can sideload content via USB, but it's hardly taking advantage of what the Fire HDX 8.9 is capable of.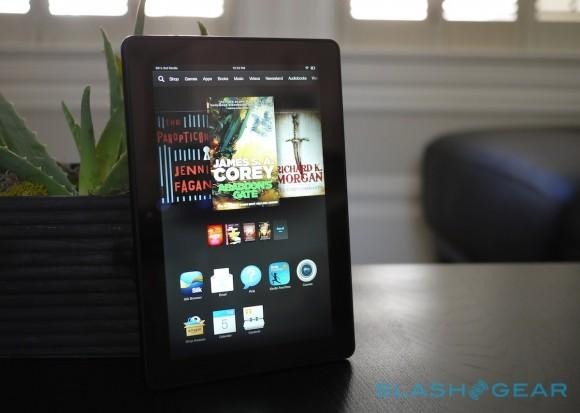 If you're already an Amazon customer, or are willing to make it your ecosystem of choice, the Kindle Fire HDX 8.9 is our choice of the company's tablets. Priced from $379 for the WiFi-only model (add $100 if you want LTE support) it's competitively priced, and it could handle anything we threw at it; Amazon's roadmap of feature updates like second-screen support will only make it better, particularly if you're a Prime customer.