Amazon Kindle Fire HD 8.9 teardown shows Samsung innards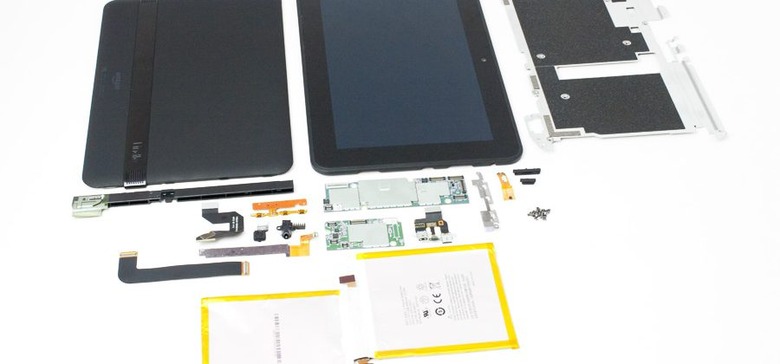 It would appear that Samsung is the big winner as far as hardware goes in the Kindle Fire HD 8.9, with no less than three major components appearing in the teardown appearing today. The folks at Powerbook Medic have shown a simple teardown process this afternoon to show how simple (or difficult) it is to repair this device, showing everyone in the doubter class that even though your biggest competitor might want you out of the market, that wont stop them from taking your cash when you want components.
This teardown shows the Kindle Fire HD 8.9 torn down with surprising ease, with just the tiniest amount of adhesive holding some key components in to this build. The Kindle Fire HD 8.9 works with a K3PF/E700M GKG82497 processor from Samsung as well as KLMAG2GE4A-A001 flash from Samsung, both of them being some of the more expensive components for Kindle in the end. The display goes by the name ltl089cl02-001 and comes from Samsung as well – what do you know!
The digitizer and the LCD are fused together as per the norm these days, making it all but impossible to fix one without breaking the other, but the rest of the device gets a pretty good grade on the repairability charts. The battery is shown to be a 6000MAH (in two parts) 22.2wh, also quite standard in the tablet industry today. One of the biggest reasons this device is simple to deconstruct is Amazon's decision to have the bulk of the device attached to the back panel, rather than having the back panel sit just as a cover.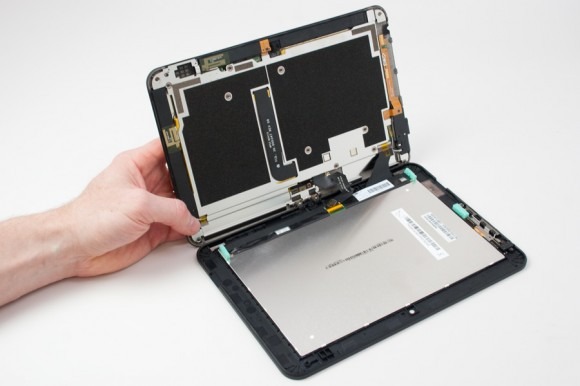 The front end, then, holds essentially the digitizer and the display, and that's it. Simple stuff! Have a peek at our timeline below of Amazon Kindle Fire HD 8.9 posts to see more information on this device, and let us know if you plan on picking one up soon!
[via Powerbook Medic]