Amazon just revealed how its Rivian electric vans will keep drivers productive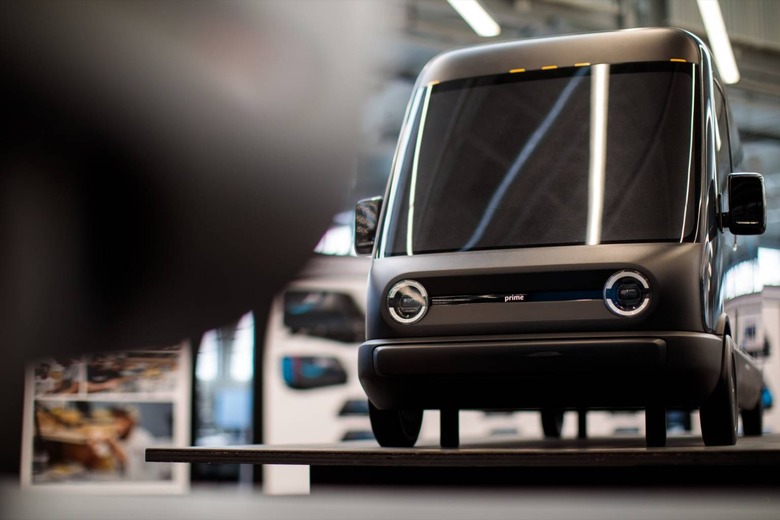 Amazon and its EV partner Rivian have detailed some of the custom features for the retail behemoth's specially-designed electric vans, ahead of their scheduled arrival on US roads from 2021. The collaboration – which has seen Amazon invest twice now in automotive startup Rivian – is targeting 100,000 such EVs by 2030, though the focus right now is on what individual drivers might experience when they're out on a shift.
Rivian is using the same "skateboard" architecture as it plans to build its own R1T pickup truck and R1S three-row SUV on this year. That combines the batteries, electric motors, braking and control systems, and other essential engineering into a single, modular slice, on top of which the automaker can add a variety of body styles.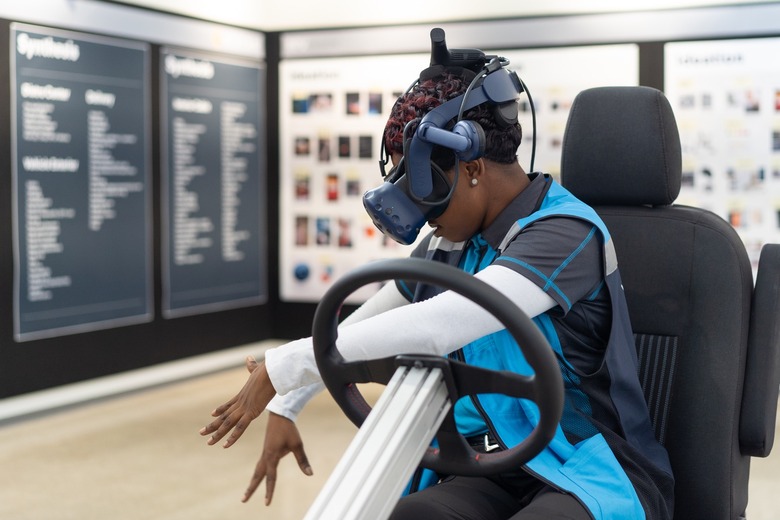 It's a flexibility that Amazon is taking full advantage of. Last month, it showed off some of the customizations it was working on for the delivery fleet, which will vary across three different sizes of van. Some will be front-wheel drive and others will offer all-wheel drive, depending on the likely road conditions of the routes they'll be operating on. Amazon will also be using a variety of battery sizes, tailoring range to the probable workload.
Inside, we already know there'd be an Alexa-powered dashboard and tight integration with Amazon's logistics back-end. Now Amazon is telling us more about those systems – and how drivers, which it refers to as "delivery associates," have helped shape them.
Native integration with the package management and routing system, for example, means the drivers won't need a second handheld device for navigation. Voice commands will be supported in the cargo area, for hands-free operations, and that space will be easier to access too. There'll be a hinged door on the driver's side, a sliding passenger door, and a roll-up door at the rear. The passenger seat will fold up to make getting from the cab to the cargo space more streamlined, too.
There'll be temperature-controlled seats, as well as heated steering wheels and armrests, Amazon says. The seatbelts and armrests will apparently "adjust to the size and weight of the driver" automatically. Automatic emergency braking, lane-keep assist, a pedestrian warning system, traffic sign recognition, and a driver-distraction monitor will also be standard. Amazon and Rivian have been using VR headsets and full-sized van mockups to walk drivers through the concept designs, to get their feedback, as well as riding along on actual deliveries to see what presents problems with the current fleet.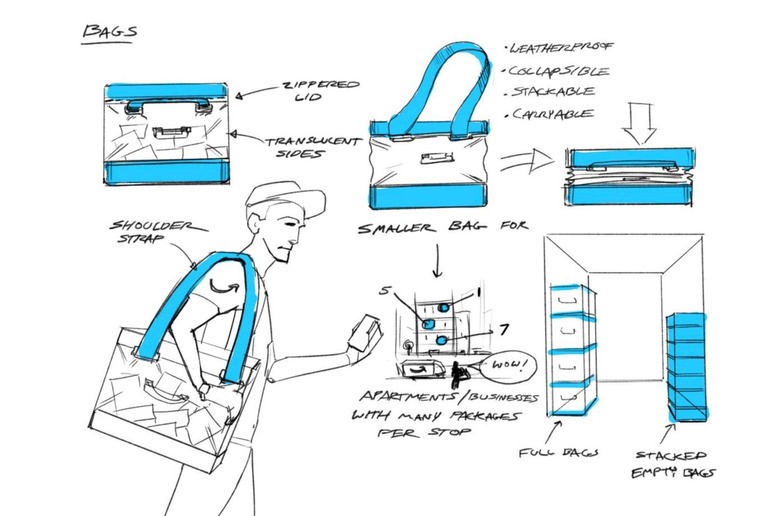 Those learnings have included focusing on how to handle smaller packages, particularly when delivering to customer-dense locations like apartment buildings or businesses. There's a new bag, for example, which is collapsable and stackable to take up minimal space, but which opens up to a weatherproof tote with translucent sides, a shoulder strap, and a zippered lid.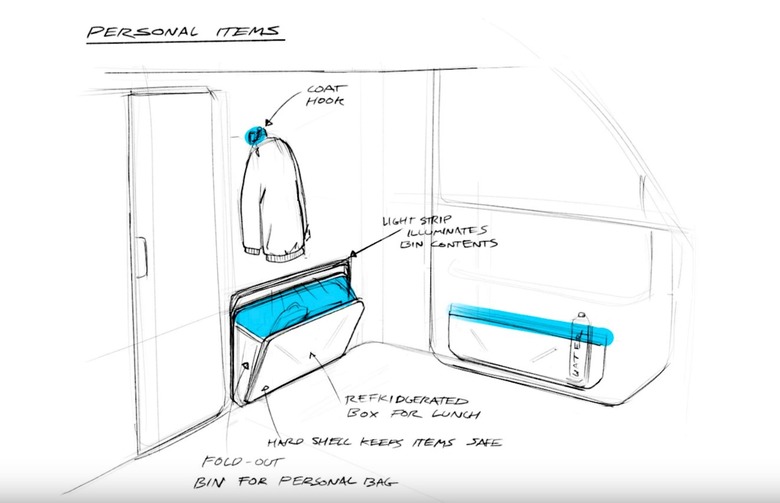 Keeping the driver's own belongings safe and separate has also been a priority. A fold-out hard shell storage bin, for instance, leaves space for a bag or purse; there's a refrigerated box to keep a lunch cool. A light strip makes seeing into the box easier.
Some of the ideas seem more fanciful. One possibility Amazon is apparently exploring is an augmented reality system, which could project delivery details onto the route ahead. Not only would that give navigation instructions, but potentially flag things like where customers wanted their packages left, and even the presence of potential hazards like dogs.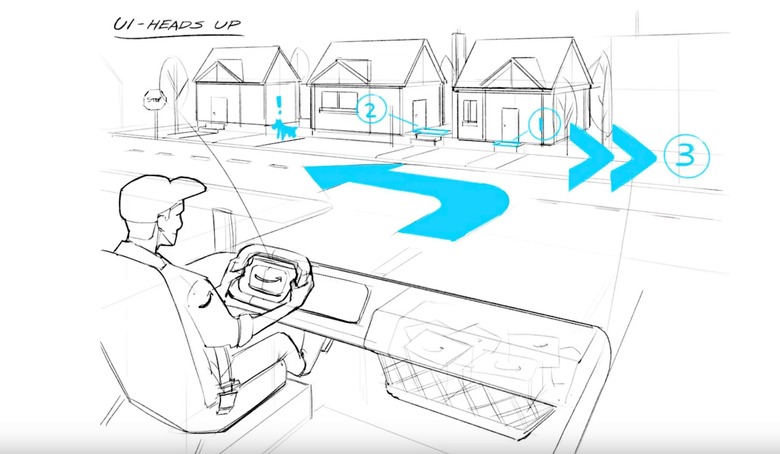 Clearly, there's an upside to Amazon in designing a van that keeps its team happy – beyond just the EV kudos. More comfortable "delivery associates" are likely to be more efficient and get through their day's packages more effectively. With Amazon's notorious tendency to hand out free shopping credit to those whose Prime deliveries don't arrive on the promised day, for example, that efficiency could add up to considerable savings on the bottom line.
It's unclear whether Amazon actually has any functioning EV vehicle prototypes at this stage. The company is believed to have been trialing electric vans for deliveries in some areas, but they're not based on the Rivian architecture.