Amazon free Echo Dot promo goes live for just a few minutes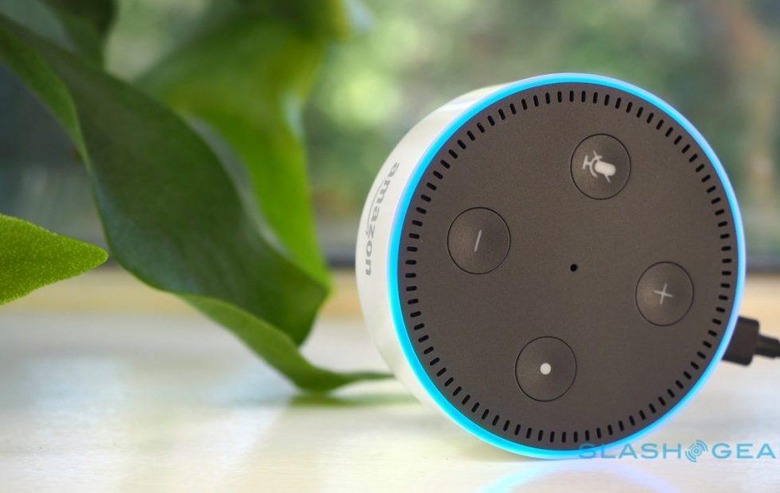 A clandestine Audible promotion made Amazon's Echo Dot free for a short window, though the deal was only stumbled upon accidentally on Friday afternoon. The promotion, only disclosed when Echo Dot buyers had the smart speaker in their cart and had reached the checkout stage, was listed only as an "Audible Promo" credit. However, it reduced the normally $49.99 device to free.
The promotion, which has not been referred to on Amazon's site, nor by Audible, was spotted by Twitter user Chris Maddern, co-founder of Button. He shared the news with his followers, some of whom reported success. Indeed, there were claims that multiple orders were permitted using the same code, which auto-populated as part of the checkout process.
Amazon Echo Dot is FREE at checkout right now... https://t.co/8fEyShiWrr pic.twitter.com/B2YHRJA8as

— Chris Maddern (@chrismaddern) August 18, 2017
Only a few minutes later, though, Amazon's site began showing an error message suggesting the Echo Dot was now out of stock. "The following items are no longer available from the seller you selected," the warning confirmed. At time of publication, Amazon is not listed as a seller for the Echo Dot in either black or white, though various third-party vendors have supplies.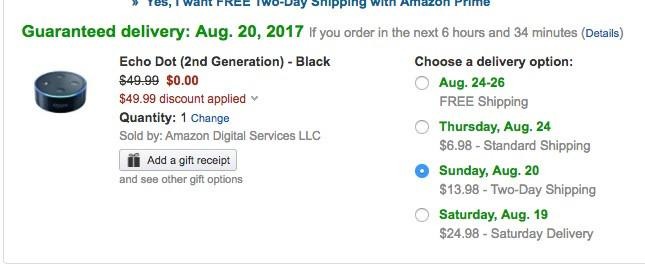 All signs point to this being a mistake on Amazon's part. It's unclear whether the retailer will honor any orders successfully placed in the few minutes the deal was available. We've got a request in for more information with Amazon PR, and will update when we know more.

Amazon hasn't been shy about running promotions to get the Echo Dot into more homes. The smart speaker is usually $49.99, but has seen discounts of around $10 on events like Black Friday and Amazon's own Prime Day. Cheapest of the current Echo line-up, the speaker drops the more powerful integrated drivers of the original Echo, though otherwise packs the same multi-microphone array for cross-room pickup.
As for Audible, that's the audiobook specialist which Amazon acquired back in 2008. It's not unfathomable that today's short-lived deal was part of a promotion with that site that went awry technically. We'll be keeping an eye out for cancellation emails to see if those Echo Dots actually are headed out to buyers with fast fingers.