Amazon Fire HD 10 Review - Only Amazon addicts need apply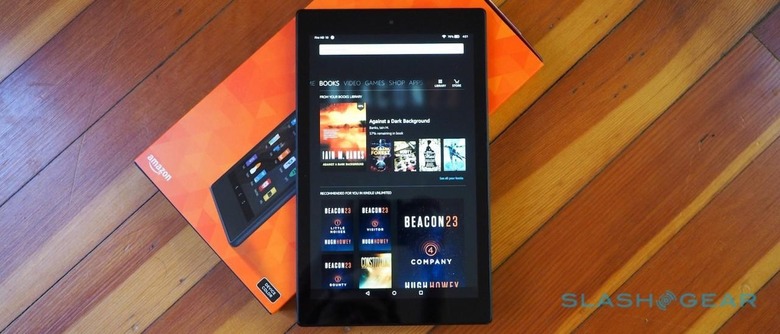 Amazon's largest ever tablet is also the company's thinnest, and as you'd expect the Fire HD 10 does its level best to be the perfect vehicle for the Bezos empire. Promising the cutting-edge in tablet hardware, with the heavily customized ease of Amazon's Android spin-off Fire OS, and at a price that would't even get you a base-model iPad, there's certainly a lot to like about the HD 10 on paper.
When your sticker says just $229 something has to give, and in the Fire HD 10's case that's premium feel. Amazon says its durability testing found the 15.2 oz, 10.3 x 6.3 x 0.3 inch plastic body of the tablet is as much as twice as tough as the metal-bodied iPad Air 2, but there's no denying that Apple's slate feels better in your hands.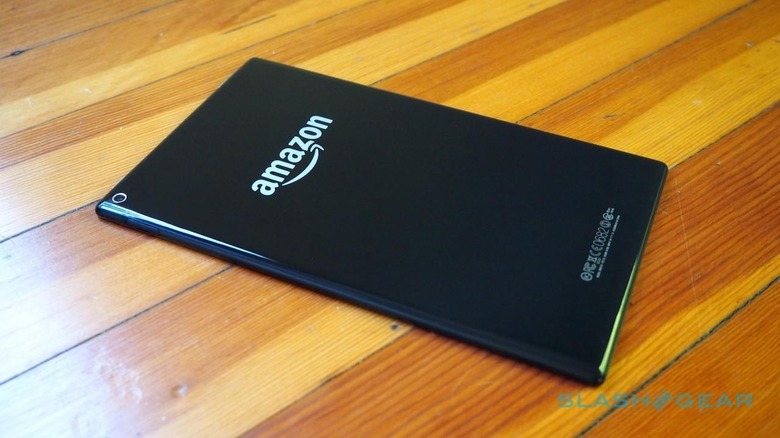 Amazon's design is inoffensive, but the black plastic of this review unit – white will also be offered, though if you want brighter colors you'll have to look to the Fire HD 8 – is a fingerprint and smudge magnet. All the same, it's thin and light, and holding it single-handed while you read isn't impractical.
Inside, there's a quad core MediaTek processor – made up of two 1.5GHz cores and two 1.2GHz cores, which independently tackle high and low intensity duties, along with a somewhat paltry 1GB and either 16GB or 32GB of storage. Happily, and somewhat unusually these days, there's a microSD slot to augment that onboard capacity.
Connectivity includes WiFi a/b/g/n/ac dual band, Bluetooth, and microUSB, but no onboard cellular modem. If you want that, you'll need to look to the Fire HDX 8.9 instead.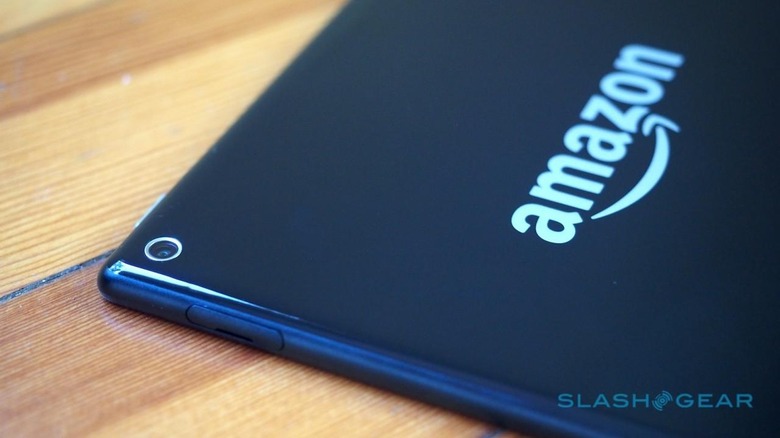 At a time where more and more tablets are going for screen ratios akin to a sheet of letter-sized paper, Amazon is sticking to its 16:10 guns. That, the company argues, is because widescreen suits the actual uses Fire tablet owners have for their slates: watching video is a priority, and that looks better when it doesn't have big black bars top and bottom.
It does mean the Fire HD 10 feels both narrow and oddly long, and the wide bezels – ironically even thicker on the top and bottom when you're looking at the tablet in portrait orientation – don't do that sense of unwieldiness any favors.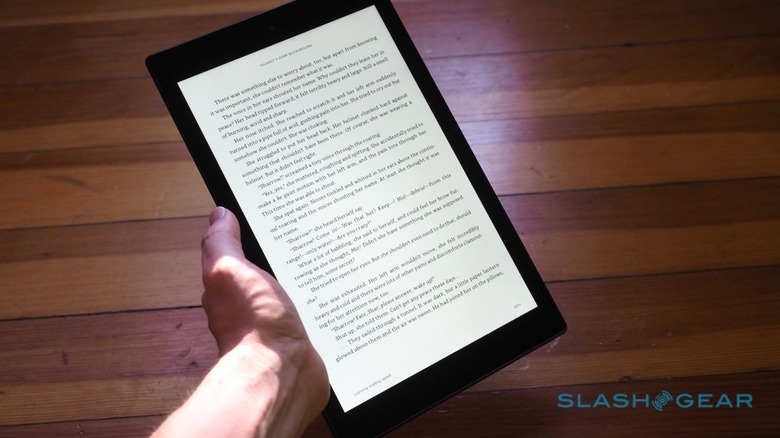 Screen resolution doesn't hold a candle to rivals, either: 1280 x 800 is a far cry from the 2048 x 1536 of the iPad Air 2 and Nexus 9. The 8-inch Fire HD 8 squeezes the same number of pixels as its 10-inch sibling into a smaller display, too.
1280 x 800 means you get 720p support but not Full HD. It also means graphics aren't as smooth as on other tablets: icons and text aren't as crisp. In Amazon's defense it's a bright screen – 400 Nits, the company says – which means outdoor visibility is good, though if you're looking for the clearest way to read ebooks on the beach then a dedicated Kindle is still the way to go.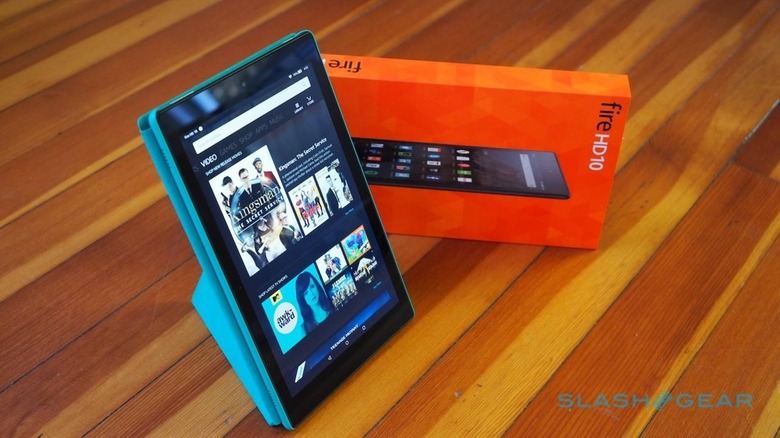 Few can rival Amazon's ease of setup. The Fire HD comes pre-registered to your account with the retailer: once you've told it your choice of language, punched in the credentials for your WiFi network, and agreed to the usual legalese, all your existing content is ready to be accessed.
In fact, even Amazon's initial tutorial – showing you the various panes, buttons, and options of the latest Fire OS 5 – is filled with the ebooks, recently-watched videos, and music personal to you, rather than some generic selection.
Fire OS 5 splits content across a number of side-swipable tabs. The home view puts the newest content at the top with apps underneath, but navigate to the right and you'll find books, video, games, shopping, apps, music, audiobooks, and newsstand all with their own sections.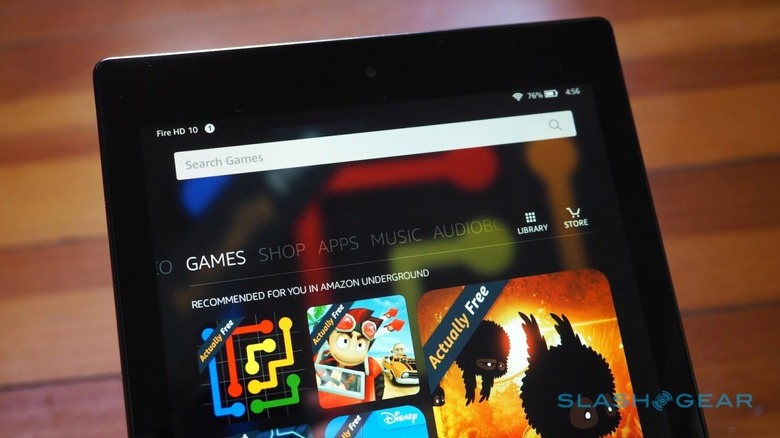 In general, the content you've most recently been reading, watching, or playing is at the top, while a scroll down the page shows suggestions, what's new, and more from Amazon's various catalogs. A Prime flag shows which content is bundled if you're a subscriber.
There's no denying it's straightforward, but it also hinges on how devoted an Amazon customer you are. I watch Amazon Prime video and read Kindle ebooks, for instance, but use Spotify rather than Prime Music: unfortunately there's no way to give Spotify a place in the Music tab (though it does show up in the Apps and – assuming I've loaded it lately – Recent tabs).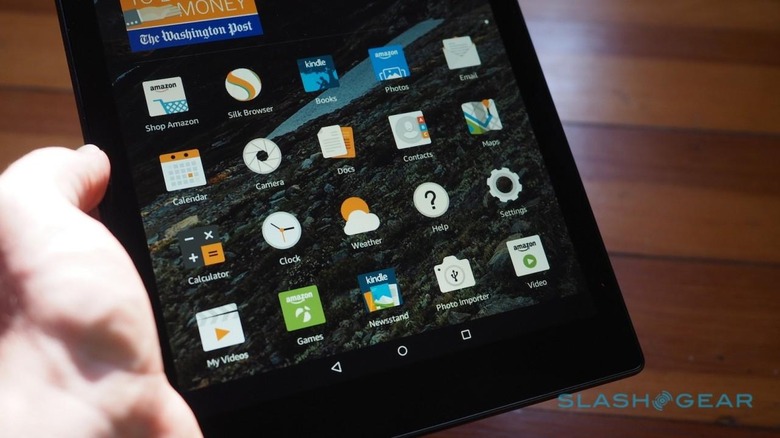 Considering this is Amazon's flagship tablet, meanwhile, I'm disappointed that Alexa – the company's virtual assistant that launched initially in the Echo speaker – isn't onboard. Asking for information and streaming media is a lot more convenient than searching for it.
What you do get is ASAP, or Advanced Streaming and Prediction, which promises to queue up what it thinks you'll want to watch next to minimize playback lag. Titles from Prime Video that support offline play can now be cached to a microSD card, rather than just the tablet's built-in storage, and there's X-Ray for figuring out which actor is which and what music is playing in the background.
Down the road – though not enabled on my review unit – is On Deck. Amazon bills this as a way to always make sure you have something to watch: in short, as long as your tablet has some spare space, it'll automatically download Prime movies and TV shows it thinks you might like.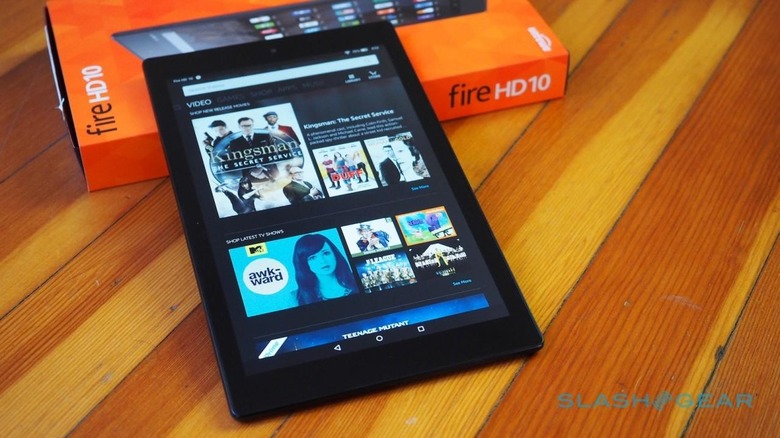 That all happens while the tablet is idle – think on charge overnight – and if you actively need the space, because you're installing apps or downloading a show you specifically want for offline viewing, the On Deck content will be removed to clear the way.
How successful it'll be will depend on how well it figures out what individuals might be interested in. From talking to Amazon execs it seems the bar is set fairly low to begin with – "better than an inflight magazine" was the description one gave me – and I'm expecting the company's own productions like Transparent to get pushed to the fore. Still, if you're a regular Prime viewer then hopefully the algorithm will learn in the same way that book predictions can be surprisingly pertinent.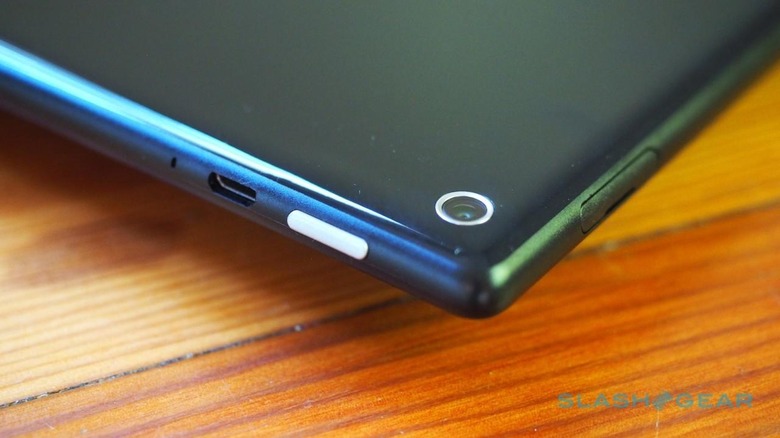 Elsewhere in media, there are dual stereo speakers with Dolby Atmos sound – they crank up loud and, while bass is unsurprisingly minimal, don't distort – while there's a 720p camera on the front and a 5-megapixel camera on the rear.
I'm loathe to encourage tablet photography, and frankly the results from the Fire HD 10's camera probably aren't going to lure many people into using it in anything but a pinch. Blurred close-ups and a tendency to blow-out brighter areas don't inspire much confidence, and though the HDR mode does a little better, the fact it takes 5-7 seconds per shot for processing – during which time you need to hold the tablet perfectly still – meant more often than not I turned it off.
Amazon says the Fire HD 10's battery is good for up to eight hours of mixed use. That seems a fairly accurate estimate; I spent a whole weekend predominantly browsing, reading ebooks, and watching a couple of short Prime videos, and didn't have to plug in.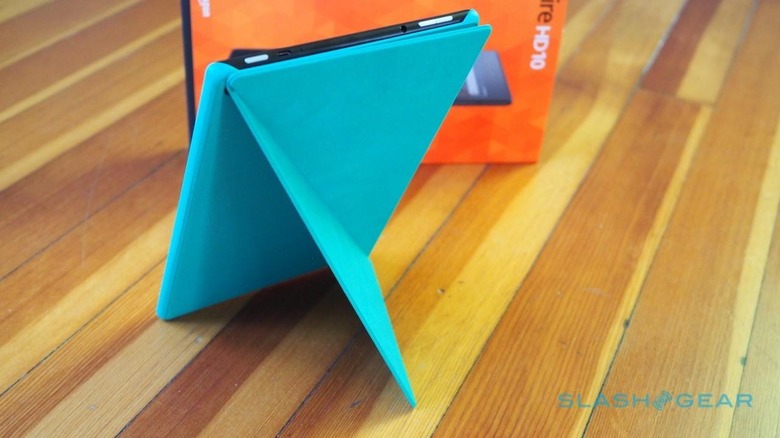 Unfortunately, one of the Fire HD's most interesting accessories, its keyboard case, wasn't available for my testing. $99.99, it folds up into a – fairly bulky – protective cover for the tablet, with a full QWERTY keyboard and trackpad for using it as a laptop.
Amazon also offers a regular case for $49.99, with a hinged cover that can stand it up in portrait or landscape orientation, and a leather version for $64.99.
Wrap-Up
Faster, thinner, tougher, and longer-lasting: sure enough, on paper the Fire HD 10 ticks all the boxes. The plastic construction may lack the premium feel of its metal-bodied rivals, but there's no knocking Amazon's pricing – even if the screen's aspect ratio can feel awkward at times.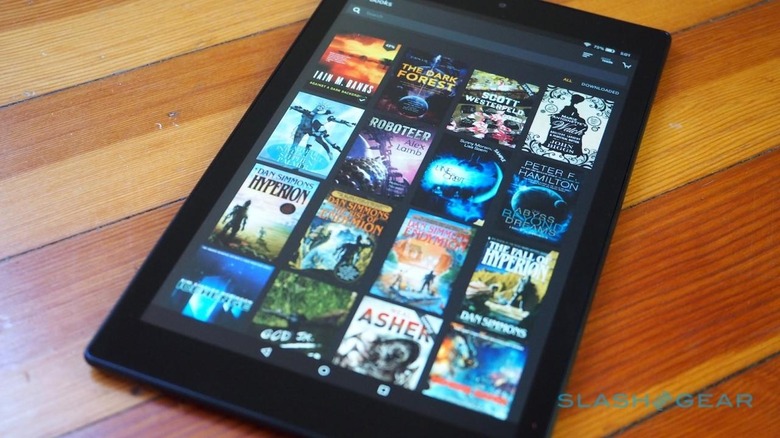 Like other Amazon tablets before it, the Fire HD 10 only really makes sense if you're immersed – or willing to be – in the retailer's ecosystem, though. Kindle ebooks, Prime video, and the Amazon Appstore are so tightly interwoven into the slate, while it may be possible to supplant them with third-party alternatives, the resulting experience underwhelms.
That fact alone will probably decide whether the Fire HD 10 is for you or not. If Amazon is your go-to store, and your primary need for a tablet is content consumption, its an affordable way to carry Bezos' empire around with you. Everyone else would be better served with a more generic Android tablet or an iPad.
[gallerybanner p=406705]