Amazon drone delivery is "fantasy" eBay CEO dismisses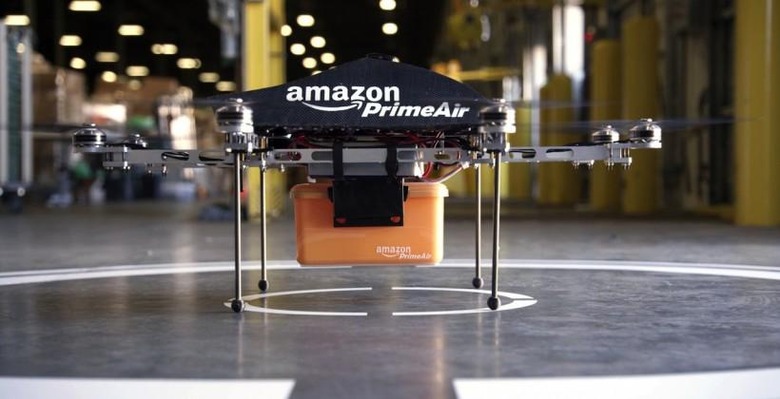 Amazon's drone delivery program, "PrimeAir", has been dismissed as fantasy by eBay's CEO, with the outspoken exec arguing that the online retail giant's aim to have micro-deliveries airborne isn't practical. "We're not really focusing on long-term fantasies," John Donahue told Bloomberg TV when asked about Amazon's moonshot scheme, which according to CEO Jeff Bezos has a 2015 launch target. "We're focusing on things we can do today."
Bezos made headlines – not all of them positive – last week, when he suggested the retailer could begin making small, urgent deliveries by remote-controlled drone. Billed PrimeAir, an extension of the existing subscription-based Prime delivery option which gives US shoppers unlimited two-day shipping (and those in some countries outside of the US unlimited next-day shipping), the scheme would allow a thirty-minute delivery period, Bezos pointed out.
Such a project couldn't begin trial operations before 2015 at the earliest, the Amazon CEO conceded, because of the regulatory and technological hurdles involved, and any commercial launch of the service would likely come after 2017 if at all. That's dependent on when the US government and the FAA decide on the exact rules around civilian drones in US airspace, something which currently falls into a mire of uncertainty and legal complexity.
The idea didn't exactly impress eBay's Donahue, however, who says the online auction site is focusing more on practical offers, such as eBay Now. That, for $5 per order, promises local delivery within an hour in participating cities, which so far includes the San Francisco peninsula, Chicago, Dallas, and certain New York districts.
"I think bold innovation is important, but our focus on our bold innovation is around commerce" Donahue argued, when asked whether eBay was missing out on moonshot-thinking. "So the notion of making a storefront window a touchscreen, I'd call that a bold innovation; the notion of saying you can get a product delivered to you within an hour, I'd call that a bold innovation."
Interestingly, not everybody has been critical of the PrimeAir plans. Bill Gates – who has been an outspoken critic of some of the more recent moonshot schemes, such as Google's Project Loon to bring internet access to developing nations – said Amazon's plans were optimistic but nonetheless sound, particularly for their potential in "getting health supplies out to people in tough places."
VIA Computerworld