Amazon developing its own messaging app called Anytime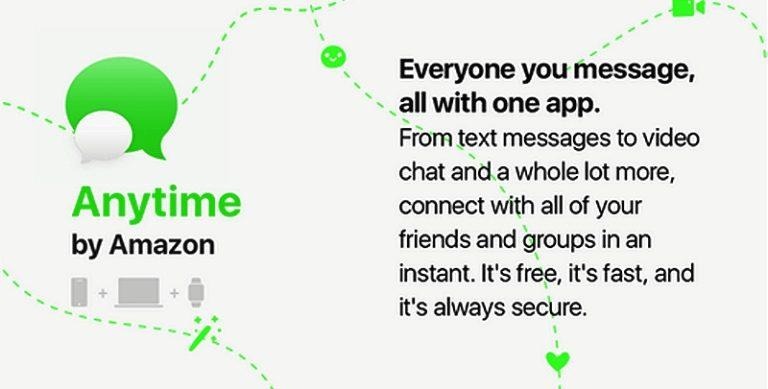 Rejoice smartphone users! If you've been looking for a new messaging app and options like Facebook Messenger, iMessage, Whatsapp, Google Allo, Hangouts, Slack, Signal, Telegram, Skype, Viber, and whatever else is already installed on your phone still aren't enough, Amazon might just be working on something to meet your needs. That's right, we could soon be getting yet another messaging app, this time from the internet marketplace giant.
It appears that Amazon is already hard at work on "Anytime," their own messaging app for iOS, Android, and desktop. AFTVnews reports that select customers have received surveys on the app, including details on its specific features. Anytime seems to covers all the basics, including group chats, voice/video calls, encryption, and stickers, but it also has a number of wide-ranging features that could have it rivaling even the biggest players in the messaging game.
One of the big positives is that it doesn't rely on users knowing each other's phone numbers, like with Whatsapp and others. Users can reach out to their friends using just their name and @mentions (it's not clear if this would be a real name system, like Facebook, or registered username, like Twitter). With this, Anytime looks to challenge even social networks, with users able to share photos and video, apply filters and effects, and even order food and play games.
Amazon has yet to officially comment on all this, but the idea of a messaging app from the company doesn't seem all that far-fetched. Anytime could be a natural extension of their previous efforts, including Chime, a messaging and videoconferencing platform for enterprise users that debuted earlier this year, in addition to the calling and messaging features on Alexa devices. The app makes even more sense when considering that it will also allow business/customer service chat, and, of course, placing orders.
SOURCE AFTVnews