Amazon Chime brings retail giant to the teleconferencing arena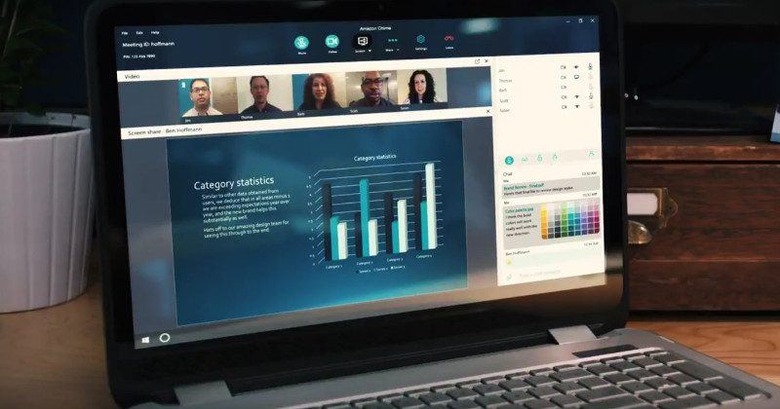 Amazon is, of course, most famous for its retail store first and foremost, and perhaps its digital content second. But for the geekier crowd, Amazon's name is also synonymous to cloud infrastructure through its Amazon Web Services. Powering not a few critical cloud services, AWS is venturing into the business of directly offering services, particularly for enterprises. Its latest stab at that market is Chime, which, unlike its name, is going to be a more or less noisy service, as it enables companies to chat in groups, whether by voice or by video.
There is really no dearth of enterprise conferencing services, but there are only a few popular ones whose names often come in this context. There's WebEx and GoToMeeting, but what Chime is probably really aiming for is Skype for Business.
Amazon Chime has a few unique features that set it apart from the competition, most of which are concentrated on its list of meeting participants. Unlike others, that virtual roster shows exactly who just joined, so you don't have to ask again and again whenever someone chimes (no pun intended) in. Interestingly, it will also indicate if any of the participants have background noise, like barking dogs or keyboard typing. Anyone, not just the moderator, can actually mute that participant, which is especially useful if there is no moderator.
Of course, Amazon is boasting of the high-quality audio and crystal clear HD video the service can provide thanks to AWS. There is even some noise cancellation happening in the background to make the audio even better. Chime isn't also tied to just one interface or OS, as it is available for Windows, Mac, iOS, and Android. Users can seamlessly switch between those at any time and they wouldn't miss a bit.
Amazon Chime has a free Basic service that is limited to one-on-one video and voice calls but does support chat conferences. The Plus tier goes for $2.50 a month per user and adds screen sharing, 1 GB per user of message retention, and the ability to disable accounts. The Pro edition goes for $15 per user per month and has all the bells and whistles, including the ability to host conferences for up to 100 users. One good thing about Chime's tiers is that Pro users can invite even those on the lower tiers, so company's can setup varying subscriptions depending on the need and budget and not a wholesale setup for everyone.