Amazon Dash Buttons come to Europe in first expansion outside US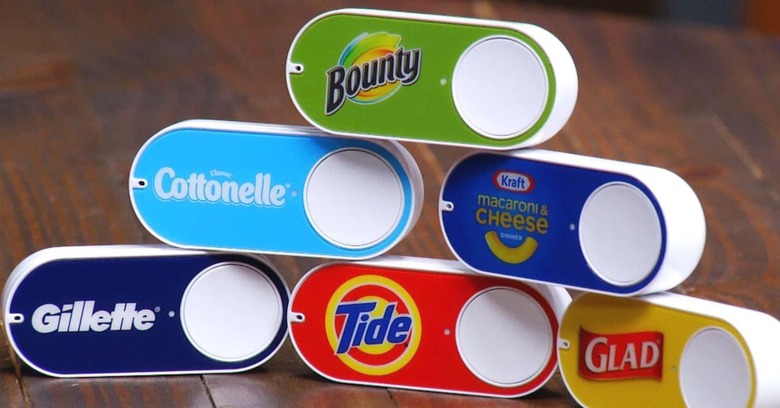 Amazon's Dash Button service has become fairly common in the US after launching a year and a half ago with the small, WiFi-connected devices that let shoppers re-order household items and snacks with just a single press, and now totaling over 100 brands and products. But in all that time, Amazon has never made the buttons available outside the US — until now. Dash Buttons have officially launched in the UK, Germany, and Austria.
The Dash Buttons are priced at £4.99/€4.99 in the three new countries, and just like in the US, require shoppers to be subscribed to the Amazon Prime service. However, the buttons essentially come out to be free, as users will get a £4.99/€4.99 discount on the first order they place with the device.
Along with the Dash Buttons, Amazon's Dash Replenishment Service (DRS) is also launching in the countries. This lets appliance and device-makers integrate the cloud-based service into their connected products to automatically re-order supplies when they run low, such as a washing machine when it needs laundry detergent or a printer when it needs ink.
Among the companies supporting the international rollout of Amazon DRS are Bosch, Siemens, Whirlpool, and Samsung. Dash Buttons can be ordered for products from popular brands including Ariel, Gillette, Huggies, Johnson's Baby, Nescafe Dolce Gusto, Neutrogena, Philips Sonicare, Whiskas, and many more.
SOURCE Amazon