New Amazon Dash buttons released for over 100 brands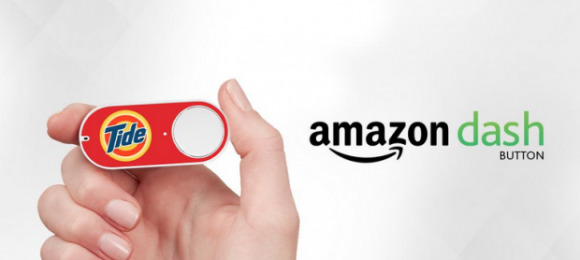 First released a year ago, it seems Amazon's Dash buttons — which let Prime members to re-order select items with a single press of a physical button — have really taken off in popularity. The company has announced today that it now offers buttons for over 100 brands, tripling what was available before now. While the WiFi-connected buttons previously focused more on everyday kitchen and household products, Amazon has expanded into more categories including snacks and drinks, office supplies, and even medicine and hygiene products.
Among the brands with Dash buttons now available include Doritos, Charmin, Red Bull, Starbucks, Vitamin Water, Trojan condoms (seriously), Nature Valley, Slim Jim, Mucinex, Stayfree pads, Zico Coconut Water, Energizer, and OxiClean. That's only a small selection, however, with the full list available here.
While Amazon Prime members are charged $4.99 for each button, they're essentially free as the first order with a Dash button comes with a $4.99 discount applied. Each time a user presses a Dash button, that specified item is automatically re-ordered for them with Prime's free, two-day shipping.
As proof of how the Dash buttons are growing in popularity, Amazon says orders placed by the devices have increased by over 75% in the last three months, and the company now sees new orders placed more than once per minute.