Amazon Cloud Cam update adds two-way audio for Echo devices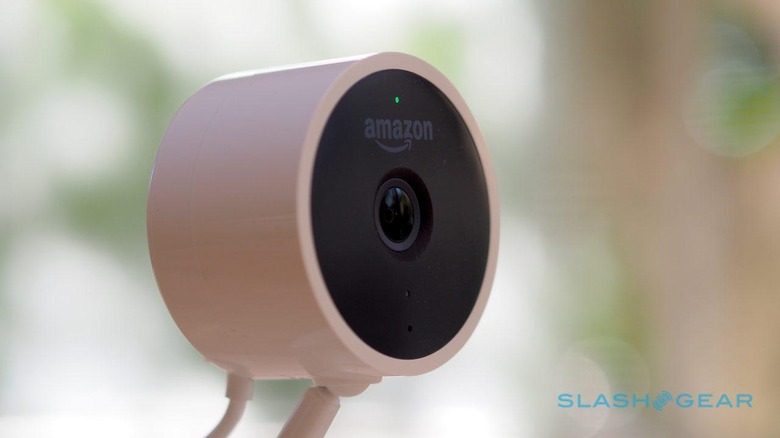 Amazon has released a software update for its Cloud Cam home security camera, adding multiple new features, particularly ones that play well with other existing Amazon products. Echo, Echo Spot, and Echo Show owners are getting new abilities thanks to today's update, which enables those Amazon products to work with the Cloud Cam's two-way audio functionality. Echo owners are also getting an optional alert feature.READ: Amazon Cloud Cam Review: Alexa will see you now
Amazon announced the software update today, explaining that with it Cloud Cam owners are able to use two-way audio with an Echo Show or Echo Spot device. To do this, users retrieve their camera's live video feed, then tap the microphone icon located in the screen's lower right corner. Pressing that triggers the walkie-talkie-like functionality; talk and the person on the other side will hear you.
Echo owners also get access to a new opt-in feature for receiving person and motion detection alerts from the Cloud Cam. This feature is available for all Echo products, with the display-enabled ones showing the alert as a pop-up on the screen. For Echo devices that don't have a screen, the alerts appear as a glowing green ring. Users have control over the frequency of the notifications within the Cloud Cam app; the alerts can be played using the command, "Alexa, what are my notifications?"
Echo products aside, the Cloud Cam software update makes it possible to turn on the camera using the Alexa voice command, "Alexa, turn on Camera Name." Of course, replacing the term "Camera Name" with the camera's actual name ("Living Room," "Bedroom," etc).
Finally, Amazon has also added the ability to check in on a live Cloud Cam feed using a computer from anywhere. This is performed by going to the cloudcam.amazon.com URL, where users can access their cameras at times when phone access isn't possible or convenient. This update joins previously launched features that include subscription-free clips downloading and sharing and the ability to turn off the camera's LEDs while in night mode.