Amazon Cloud Cam Review: Alexa will see you now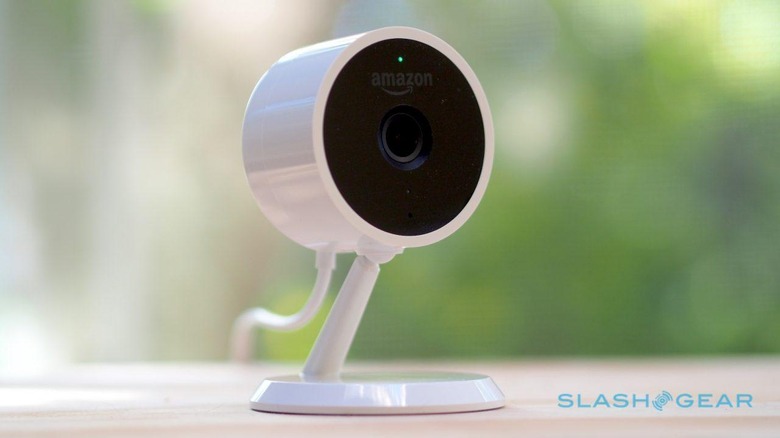 EDITORS' RATING: 7/10
Alexa is already listening to you, but now the Amazon Cloud Cam wants to watch you, too. The retailer's first connected security camera may not be the first to market, but it does offer some competitive cloud storage pricing and is an integral part of Amazon Key. Question is, with heavyweights like Nest already well associated with the smart security space, can the Amazon Cloud Cam hold up to scrutiny?
Hardware and design
Were I a member of the design team at Nest, I might have done a double-take when Amazon first revealed the Cloud Cam. There's a striking similarity between Amazon's new camera and the Nest Cam IQ, with their white cylindrical bodies, black fascias, and slender stands. Unsurprisingly, given the Cloud Cam is also less than half the price, it's not quite so sleek overall: glossy plastic where Nest uses matte, a less sturdy-feeling hinge, and a cable that, rather than being integrated with the stand, sticks out the back.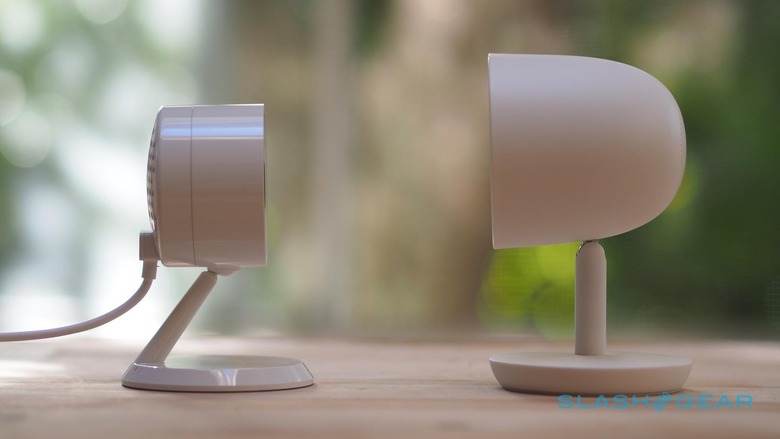 The aesthetic stuff I can forgive given the price, but I wish Amazon had more heavily weighted the Cloud Cam's base. It's easy to inadvertently pull the camera around just from the weight of the USB cord. In Amazon's favor, there's a wall mounting plate included in the box, which requires just a few screws to fit and then the camera slots into place.
Amazon has used a 1080p Full HD sensor, capable of up to 30 fps and paired with a 120-degree lens. It's not the widest-angle lens out there – Nest offers 130-degrees while Logi's Circle 2 goes all the way to 180-degrees, albeit with some noticeable curvature at the edges of the frame as a result – which demands some careful positioning to make sure everything in the room you want to monitor is in the frame.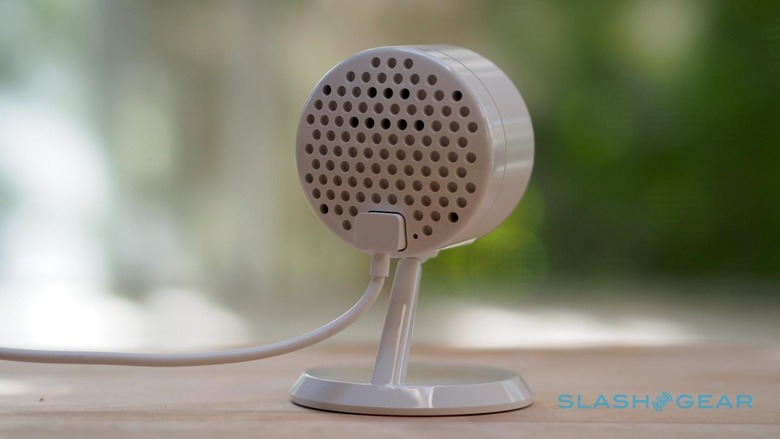 Connectivity is via 802.11n WiFi (2.4GHz only), and there's Bluetooth LE which is used during the initial setup. That basically involves plugging the camera in, waiting until the LED on the front blinks blue and green, and then using the iOS or Android app to teach it your WiFi network and give it a name. Around the lens there are eight infrared LEDs, which light up automatically when the room is dark.
There's also a microphone and speaker for two-way communication, though it's push-to-talk rather than full duplex. You can shut off the camera altogether via the app manually, or set up geofencing which relies on your smartphone's location to toggle the Home/Away settings. Unlike on some security cameras there's no way to turn off the green LED aside from disabling the Cloud Cam completely.
Video quality
The 1080p of the Amazon Cloud Cam is solid. Unlike some WiFi cameras, there's no option to scale down to 720p in the name of reducing bandwidth. On the plus side, there's plenty of detail, and the eight IR LEDs do a decent job of illuminating a room. Certainly, it's sufficient to make out people's faces.
There's zooming, but since it's digital there's a loss in quality involved as you get closer in. That's in contrast to the Nest Cam IQ's lossless zoom; Nest's enhancement algorithms are better, too. All the same, Amazon's camera is more than sufficient to pick out nuances in the frame.
Open your wallet
As with most consumer connected cameras, Amazon is pushing its cloud storage plans and, frankly, if you want the most usefulness from the Cloud Cam then you're going to have to open your wallet. The free tier includes 24 hours of cloud storage for video clips, for up to three cameras; you also get notifications when any activity is detected. However, critically, you can't download those saved clips.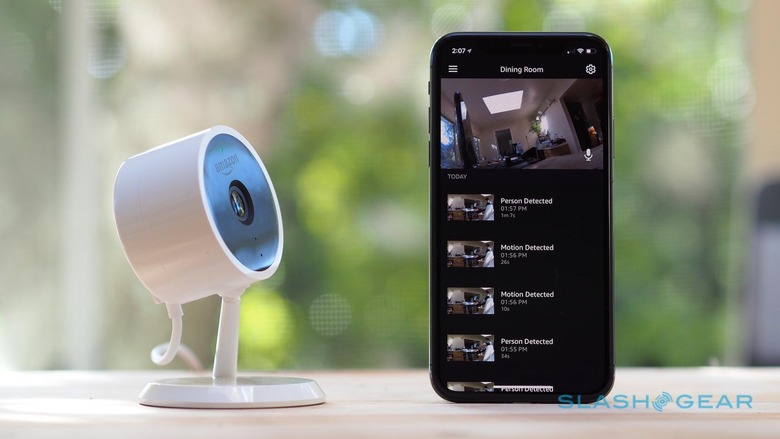 If you want that, you'll need to subscribe. The Basic plan costs $6.99 a month or $69.99 for a year, and includes seven days of cloud storage and the ability to download and share on social media your video clips. It also adds person detection, which promises to tell the difference between a car driving past and someone walking into the frame. You can assign zones within which movement is tracked, too.
An Extended plan is $9.99 a month or $99.99 for the year, and covers up to five cameras with up to 14 days of cloud storage. Finally, the Pro plan is $19.99 a month or $199.99 per year, and bumps the cloud storage up to 30 days and the number of covered cameras up to ten. Out of the box, you get a 30 day free trial to see how the premium features play.
As subscription offers go, Amazon's falls somewhere in the middle of the segment. It's cheaper than Nest, which offers 10 days of video, activity zones, smart alerts, downloadable clips, and timelapses for $10 per month, per camera. That adds up fast if you have more than one camera installed, and Nest's free tier doesn't even include video, only snapshots from the past three hours.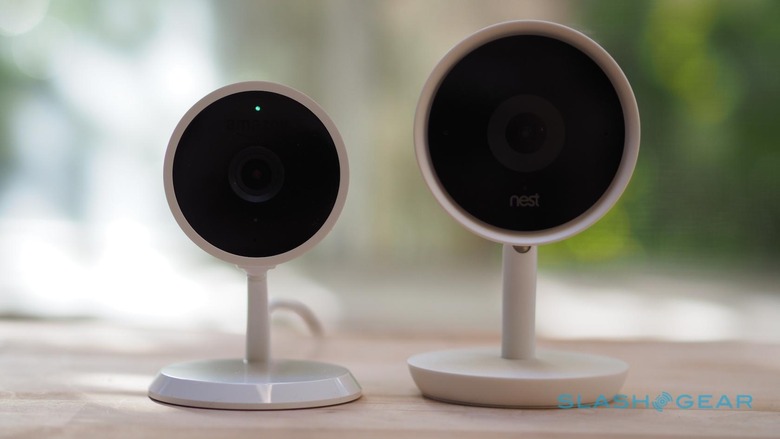 All the same, there are more generous deals elsewhere. The $179.99 Logi Circle 2, for instance, is more expensive than Amazon's Cloud Cam, but its free tier includes video clips from the past 24 hours that can be downloaded. For $3.99 per month, per camera, you can increase that to 14 days; $6.99 per month extends it to 30 days, with person detection and motion zones.
Where Amazon's plans make most sense, therefore, is if you're comfortable paying and have more than one camera. Its entry level subscription is a better deal for multiple Cloud Cam installs. Nonetheless, there are alternatives out there with local storage – D-Link has a number of security cameras with microSD slots, for instance – that can save as much local video as your memory card has capacity, with no subscription fee. In my experience, they can be a little trickier to set up and remotely access, mind.
Alexa is in control - sort of
The Cloud Cam also differentiates itself by virtue of its Alexa integration. Amazon's assistant can be used to pull up the camera's view on an Echo Show, the upcoming Echo Spot, an Alexa-enabled Fire tablet, or a Fire TV. By saying "Alexa, show the dining room" to the Fire TV remote, for example, I was able to instantly see what the Cloud Cam was pointed at. Saying "Alexa, stop" ended it.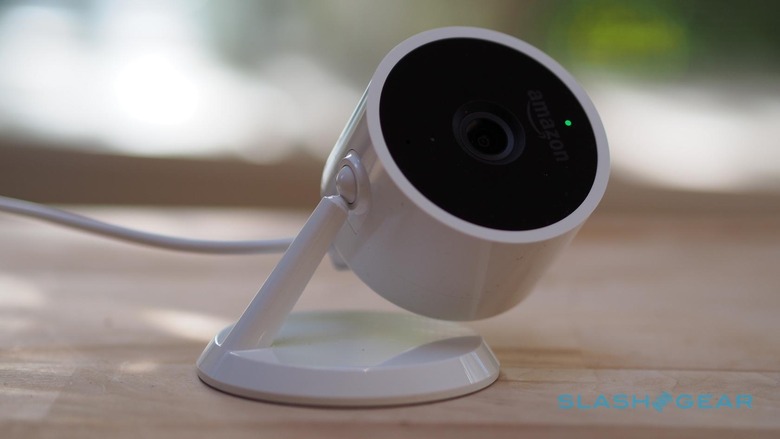 Unfortunately, there's not much you can actually do, beyond see what's happening right there and then. Unlike in the Cloud Cam app, Alexa on your TV, Fire tablet, or Echo Show can't access saved clips. You can't zoom into the frame, and you can't use the microphone to talk through the Cloud Cam's speaker. You're just seeing a livestream of what's happening there and then.
Amazon Key
Opinion was divided when Amazon announced its new Amazon Key service, launching for Prime subscribers who still want to receive deliveries even when they're not home. Courtesy of a connected lock, the retailer's couriers will be able to access your house to drop off packages inside, rather than leaving them on the step where they could be rained on or, worse still, stolen.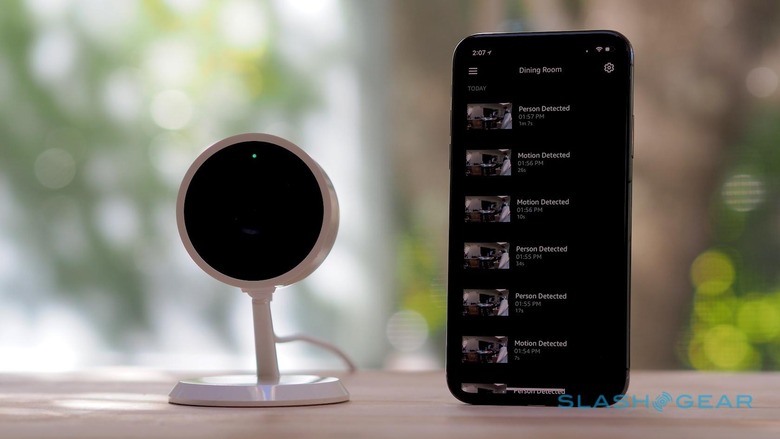 Nobody likes having their orders stolen, but even so the thought of a random delivery person getting into your house while you're not home still proved too creepy for many. Amazon is pitching the Cloud Cam as the solution: its Amazon Key starter kit includes not only the smart lock, but the camera too. The idea is that you'll have video evidence of just what the courier got up to.
Wrap-up
The connected camera space is fierce, and for many their first taste of the smart home is some sort of WiFi-enabled security system. Nest has become the go-to, but you pay handsomely for its simplicity.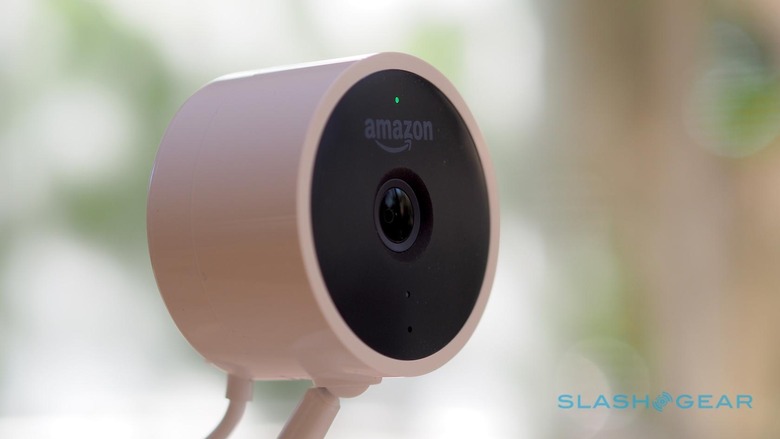 There's a lot to like about the Amazon Cloud Cam. It's affordable, easy to set up, and works as promised. The Alexa integration feels a little half-baked right now, though, and I'd really like to see video history supported there too. Most frustrating, however, is the inability to download clips unless you're a subscriber: that's one of the most annoying aspects of Nest, and somewhere other rivals have a clear advantage.
Honestly, that seems like something Amazon could easily offer its Prime customers as another perk to encourage sign-ups. All the same, if you want the ease of a cloud-based security system, are okay paying for that, and you plan on installing a number of cameras, Amazon's Cloud Cam pricing and plans are both very competitive.