Amazon axes monthly Prime option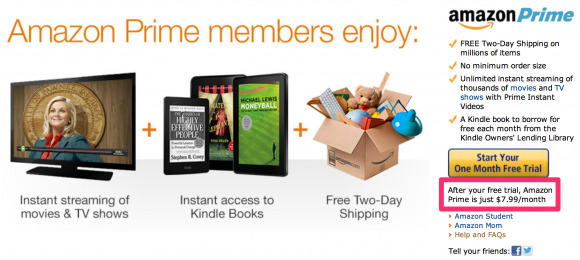 Amazon has axed its monthly Prime program, freezing the $7.99 scheme for discounted shipping and streaming video access, having described it as merely a "test" versus annual membership. Quietly launched just two weeks ago, the scheme was initially seen as an attempt by Amazon to challenge Netflix and Hulu Plus with a month-to-month on-demand media alternative, but the retailer confirmed to AllThingsD that it was no longer accepting new sign-ups.
"We regularly test new options for our customers" a company spokesperson said. "At this time, we've completed our test and are no longer signing up new customers for Amazon Prime monthly memberships."
Prime has been around for some time now, in the US offering shoppers a way to get unlimited two-day shipping for an annual fee of $79. Membership also includes instant streaming from Amazon's video platform, and access to the Kindle Owners Lending Library for ebook loans.
At $7.99 per month, the monthly Prime membership worked out more expensive than the traditional annual plan. Taken over the course of a year, it amounted to $95.88, or $16.88 more than paying one lump sum; however, it had no minimum term, and as such could have been useful for holiday shopping when online sales increase.
Exactly what Amazon has concluded from its trial test is yet to be revealed, though the company may have been investigating the potential uptake of a streaming-only plan, measuring media access versus shipping physical sales. Those already signed up to the monthly package will be allowed to continue using it.
[via Phandroid]