Amazon Appstore wins exclusive on Angry Birds for Android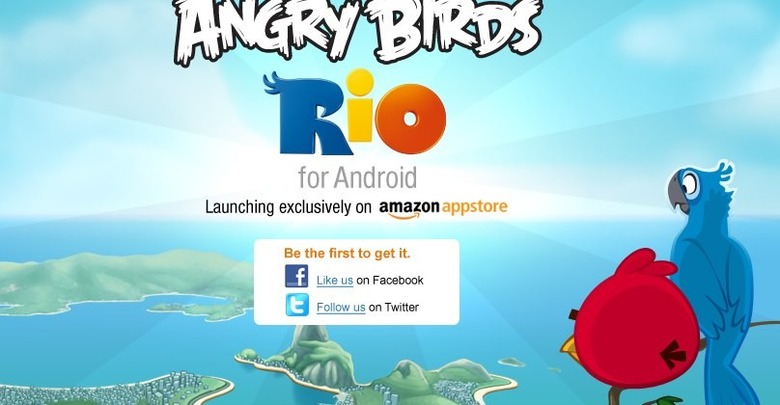 We may receive a commission on purchases made from links.
Lest you suspect Amazon was treating its new Amazon Appstore as a hobby, the company has announced an exclusive deal with Angry Birds developer Rovio to release the new Angry Birds Rio title through the new Android marketplace. Ditching GetJar and shifting over to Amazon's new system, Rovio will also be offering ad-free versions of its existing Angry Birds and Angry Birds Seasons for Android games for the first time.
They'll also be available exclusively through the Amazon Appstore, quite the coup for the online retailer. The support for in-app purchases will also be seen in Angry Birds Rio, which will ship with 60 levels but have more on offer for purchase within the game.
Gaining Angry Birds to the platform is a significant achievement for Amazon; the title has become a best-seller, and Rovio the current poster-child for popular gaming on smartphone devices. The game has been downloaded 30m times on Android alone.
[via Android Community]
Press Release:
Angry Birds Rio for Android to Debut Exclusively in the Amazon Appstore
AUSTIN, Texas/ ESPOO, Finland – March 14, 2011 – Rovio today announced that the highly anticipated game Angry Birds Rio will be introduced for the Android platform exclusively in the Amazon Appstore. Developed in conjunction with Twentieth Century Fox, Angry Birds Rio features the animated stars of the studio's upcoming motion picture, RIO. Additionally, for the first time ever on the Android platform, fans of Angry Birds games will have the opportunity to purchase and download ad-free versions of Angry Birds and Angry Birds Seasons. Both will debut only in the Amazon Appstore.

"The Android platform has seen phenomenal growth, and it's great that new avenues for app distribution are opening up," said Mikael Hed, CEO of Rovio. "The openness of the Android platform works for the benefit of consumers and developers alike. It has been delightful to team up with Amazon to bring the Angry Birds franchise to this great new application marketplace."

"Amazon is thrilled to work with a leading developer like Rovio in offering our customers Angry Birds Rio for Android exclusively in the Amazon Appstore," said Aaron Rubenson, category leader for Amazon Appstore. "We think Angry Birds Rio is sure to be an instant customer favorite."

"Angry Birds Rio is a fun and interactive way to introduce millions of fans to the exciting world of 'RIO,' and we are proud to work with both Rovio and Amazon to make this experience available to users on the Android platform," said Peter Levinsohn, president of new media and digital distribution for Twentieth Century Fox. "The Amazon Appstore will be a great new way for consumers to download all their favorite Android apps, and we're excited to offer Angry Birds Rio as one of the first pieces of content to be made available to consumers through this new store."

In Angry Birds Rio, the original Angry Birds are kidnapped and taken to the magical city of Rio, where they eventually escape their captors and set out to save their friends, Blu and Jewel – two rare macaws and the stars of the upcoming Fox motion picture, RIO. From the creators of Fox's blockbuster ICE AGE motion picture franchise, RIO debuts in theaters worldwide on April 15, 2011. Angry Birds Rio will launch with 60 dedicated levels, with more content to follow via app updates.

Angry Birds Rio will be available for download on Android phones and tablets at amazon.com/angrybirds.