Amazon AppStore for Android detailed: One-Click, Recommendations & more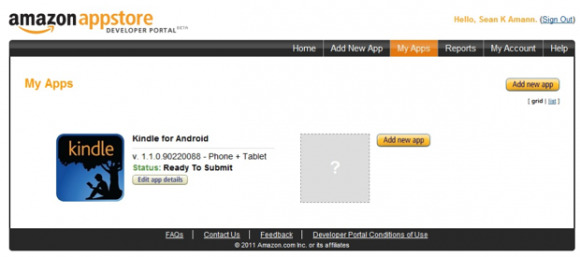 Amazon is certainly taking Android seriously, with the promise of tablet-centric Kindle apps later in the year, but it's the new Amazon AppStore for Android that really shows the retailer's aim. Now accepting developer submissions ahead of a launch on devices sometime in 2011, according to TechCrunch the AppStore will combine Amazon's One-Click payments system, the retailer's recommendations engine, and flexible pricing to take on the official Android Market.
Developers will be able to set a "List Price" for their apps, but final decisions on pricing will be made by Amazon; they can choose to significantly discount an app, or even make it free. The usual 70-percent profit share applies, though if the app is steeply discounted Amazon guarantee developers will get 20-percent of their list price.
Unlike in the Android Market, and more akin to Apple's approach, Amazon AppStore submissions will be validated and checked prior to them being added to the store. Users will be able to browse the apps online, buy and send them to their device remotely, though they'll need an Amazon AppStore app on their handset to actually install them. That local app will also require some settings tweaking, with "Unknown Sources" install permissions granted.
The Amazon AppStore for Android will arrive later in 2011, complete with a storefront designed for tablets.
[via Android Community]