Amazon App for Android released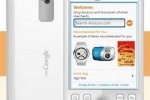 We may receive a commission on purchases made from links.
Online retailer Amazon have released a new version of their free shopping application, this time for Google's Android platform.  The Amazon App for Android is a free download and allows users to snap photos of items such as CDs or DVDs, or alternatively of barcodes, and pull up matching products from their own catalog.
It's also possible to access and manage a users' Wish List, view product description and reviews, and see recommendations, all from the Android app itself.  Once found, items can be bought through Amazon App for Android via 1-Click and Amazon Prime, and packages can be tracked. 
However the software lacks some of the features from well-known Android rival app ShopSavvy, which can check the stock of local retailers using GPS and pull up price comparisons from more than one online store.  Amazon App for Android is available to download now, and can be found in the Android Market.
Press Release:
New Free Shopping Application for Android Lets Amazon Customers Snap a Photo or Scan a Barcode for Instant Product Matches

SEATTLE–(BUSINESS WIRE)–Aug. 4, 2009– Amazon.com, Inc. (NASDAQ:AMZN) today announced the release of its latest mobile shopping application, "Amazon App for Android™," which is now available as a free download to a user's device in Android Market™. Designed specifically for Android, the Amazon App offers users a fast and convenient way to shop on Amazon.com and thousands of other merchants wherever they go. The application includes the experimental Amazon Remembers feature that gives Android users two different ways to use their device camera to find and remember items available for sale on Amazon.com: they can either snap a photo of an item or scan a barcode, and then receive a product match. For barcode scans and many photos, matches are instant. Other items take just a few minutes.

"Customers have been requesting an Amazon shopping application on their Android devices and we are thrilled to bring them the Amazon App for Android," said Sam Hall, director of Amazon Mobile. "In addition to their favorite Amazon shopping features, Amazon App for Android users can use Amazon Remembers to easily keep track of the items they see in their daily lives and even instantly match photos and barcodes to products available at Amazon.com."

Amazon Remembers is available on Amazon's family of shopping applications, including the Amazon App for iPhone and iPod Touch, the Amazon App for BlackBerry, and now on the Amazon App for Android. Using the Amazon App for Android, customers can snap a photo of a product or scan a barcode for a fun and easy way to build a list of photographs showing products they want to remember for later, make price comparisons across multiple merchants, and purchase products from Amazon.com and thousands of other retailers on the Amazon.com site – without ever using the keyboard.

In addition to its Amazon Remembers capabilities, Amazon's family of mobile shopping applications connects customers to their Amazon.com account and favorite shopping features wherever they are, such as:

Purchasing using Amazon's 1-Click® ordering and Amazon Prime

Tracking packages or modifying orders using the Your Account feature

Receiving personalized recommendations

Viewing editorial and customer reviews

Getting the Gold Box Deal of the Day

Accessing their Wish List

The Amazon App for Android is available on any Android-enabled device as a free download through Android Market™. For more information, visit www.amazon.com/android_app.