Amazon Alexa now controls your DISH DVR by voice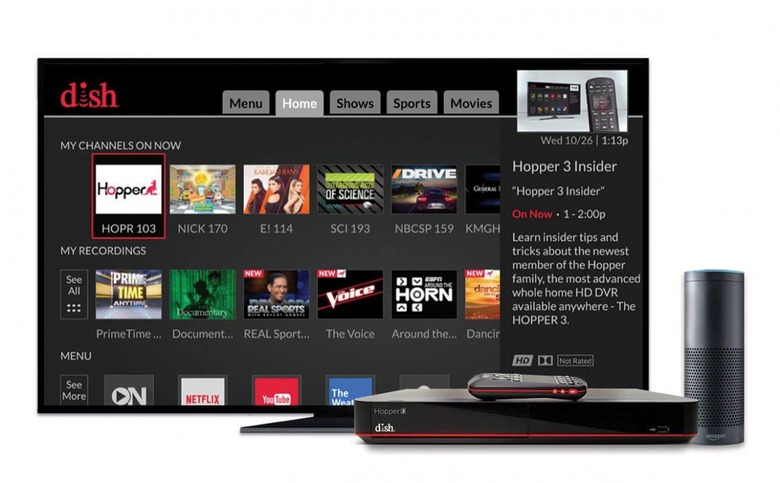 DISH is looking to end "where's the remote?" hunting with an update for its Hopper and Wally set-top boxes that adds Amazon Alexa support. The new feature works with Amazon's Echo, Echo Dot, and Amazon Tap, with voice control for everything from navigating between channels, search, and the basics of pause, fast-forward, and rewind. It's the first official integration of this sort between Alexa, Amazon's virtual assistant, and a third-party TV provider's hardware.
Other platforms, like Comcast's Xfinity, do offer voice control natively. Back in 2015, Comcast offered a special remote with a microphone built-in that could be used to search for channels and control playback. Meanwhile Amazon's own Fire TV has Alexa support, while Apple's fourth-generation Apple TV has a Siri-powered remote.
Rather than go the home-grown route, DISH has instead opted to integrate with one of the rising stars in the third-party marketplace. You can connect the two by heading into the Alexa app and finding the DISH TV skill under the "Music, Video & Books" category. Then, you can get an Alexa code from the internet-connected Hopper or Wally set-top box.
Once activated, you choose the desired Hopper or Wally receiver from the list of discoverable devices in the Alexa app. At that point, by using the "Alexa" wake-word you can instruct the smart speaker to do a wide variety of commands:
"Alexa, change channel to ESPN"

"Alexa, tune to channel 130"

"Alexa, go to the History Channel"

"Alexa, find the Big Bang Theory"

"Alexa, search for Game of Thrones"

"Alexa, show me Tom Hanks movies"

"Alexa, search for comedies"

"Alexa, play This is Us"

"Alexa, skip forward"

"Alexa, rewind 30 seconds"

"Alexa, pause"

"Alexa, resume"
In fact, you'll be able to navigate, play, pause, fast-forward, rewind, and search content, the latter based on channel, title, actor, or genre. As well as DISH's live, recorded, and on-demand streaming content, the universal search will also work with Netflix's catalog. DISH says that there are more commands and integrations in the pipeline, too. That could mean the ability to program recordings using voice, perhaps, or manage a list of DVR-recorded shows.
Of course, the big challenge might be preventing living room arguments. The good thing – and frustrating thing – about having a traditional remote control is that only one person can use it at a time. With Alexa listening from across the room, and responding to any voice, heated debates about what should be playing could end up escalating into a battle of raised voices.