Amazon 1984 ebook case settled: new remote-delete policy revealed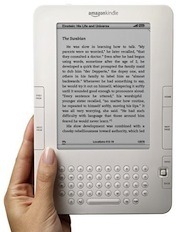 Amazon's attempt to placate the braying crowds with a
and a
after the deleted 1984 ebook fiasco worked with most Kindle customers, but it wasn't enough to dissuade suing student Justin Gawronski from his court case.  Amazon
with the Michigan teen, to the amount of $150,000 in fact, which he will share with his legal team and a co-plaintiff; meanwhile, the retailer has taken steps to make its deletion policy clearer.
Full policy after the cut
Amazon will not remotely delete or modify such Works from Devices purchased and being used in the United States unless (a) the user consents to such deletion or modification; (b) the user requests a refund for the Work or otherwise fails to pay for the Work (e.g., if a credit or debit card issuer declines to remit payment); (c) a judicial or regulatory order requires such deletion or modification; or (d) deletion or modification is reasonably necessary to protect the consumer or the operation of a Device or network through which the Device communicates (e.g., to remove harmful code embedded within a copy of a Work downloaded to a Device).
The new policy leaves Amazon with the capability – and agreed right – to remove consumers' ebooks from their Kindle devices (and the iPod touch/iPhone client), though only in certain circumstances.  Those include failure of payment (or if a refund is sought), "judicial or regulatory order" or should the ebook have harmful code or otherwise threaten either the device or the Whispernet network.
1984 was removed – complete with student Gawronski's exam notes – after it was revealed to have been added to the Amazon catalog without the permission of the rights-holder.  The new policy means that Amazon will no longer be able to remove from a user's device such an erroneously-published ebook already purchased, at least not off its own back, but instead the rights-holders will have to seek a court injunction ordering the retailer to do so.