Always Innovating Touch Book: keyboard-docking netslate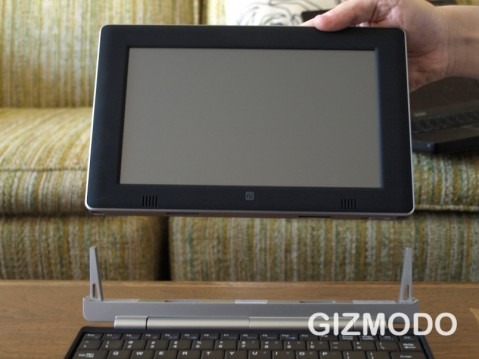 Netbooks with Tablet PC functionality aren't new, but Always Innovating have turned a new page with their 8.9-inch Touch Book.  It comes with a detachable keyboard, similar in concept to the much-missed HP tc1x00-series Tablet PC, meaning it can be used as a notebook or as a touchscreen slate.
All of the essential hardware is inside the slate screen section, with the Touch Book using a 600MHz TI OMAP3 processor, 256MB of memory, an 8GB microSD card for storage and WiFi b/g/n and Bluetooth.  There's also a 3-axis accelerometer, a battery, and the display runs at 1024 x 768 and has a resistive touch panel.
The keyboard, meanwhile, contains a second battery, and together the Touch Book has enough power for up to 15hrs runtime.  The whole thing weighs roughly 2lbs when docked, but the screen section on its own is around 1lb and measures roughly 9.5 x 7 x 1 inches.
As their name somewhat demands, there are plenty of thoughtful features in the Touch Book's design.  The screen lid removes easily and there are two internal USB ports and space for a couple of dongles to sit, so you can readily add a WWAN modem.  The software automatically flips between a standard Linux desktop when docked with the keyboard and a specially coded touch-based GUI when in slate format.  According to Always Innovating it will ship with Firefox and the Fennec Mobile Firefox browsers, games, web and productivity apps and possibly iPhone games support.
Best of all is the price: $300 for the screen section, or $400 for that and the keyboard, when the Touch Book begins shipping in late May or early June.  It'll be available in red or dark grey, and pre-orders will open next week.  At that price, this is a very tempting device.
Press Release:
NEW TOUCHBOOK COMBINES NETBOOK AND TOUCHSCREEN TABLET; PROVIDES THREE TIMES THE BATTERY LIFE AT UNDER TWO POUNDS

PALM DESERT, Calif. March 2, 2009: Always Innovating today unveiled the Touch Book, a versatile new device that works as both a netbook and a tablet thanks to a detachable keyboard and a 3D touchscreen user interface. The Touch Book, previewed at DEMO 09, weighs less than two pounds as a netbook and has a battery life of 10 to 15 hours – three times longer than most netbooks.

"The Touch Book is perfect for these tough economic times because you can use it in so many ways," said Gregoire Gentil, founder of Always Innovating and creator of the Touch Book. "You can use it as a netbook computer, a hand-held game device, or a video player. You can even reverse the keyboard to prop it up on a table in an inverted 'V'. Finally, because it is magnetic, you can remove the keyboard and put the tablet on the fridge to serve as a kitchen computer or digital frame."

The Touch Book combines the best of open source software and open hardware with a sleek industrial design by designer Fred Bould. The innovative design includes internal USB plugs. "I hate having dongles hanging from my laptop – I often end up disconnecting them accidentally – so we opted to put the USB inside," said Gentil.

The Touch Book is the first netbook featuring an ARM processor from Texas Instruments, resulting in outstanding battery life, and a fan less, heat-and-noise-free system.

According to Chris Shipley, executive producer of the DEMO Conferences, the Touch Book's innovative architecture and industrial design earned it a spot on the DEMO conference stage. "The longer battery life is a boon to netbook users. But the Touch Book's versatility – its ability to function as a netbook as well as a standalone touchscreen tablet – makes it a breakthrough product," said Shipley

The Touch Book is expected to ship in late spring and will start at $299. Advance orders can be placed at http://www.alwaysinnovating.com/store/.