Altec Lansing have unveiled a number of new audio systems, including a high-quality portable speaker dock for the iPhone 3G, a combination speaker dock, FM radio and clock (with color changing mood light), and a desktop speaker system with integrated dual subwoofers.  The inMotion MAX Portable Digital Music System uses the company's proprietary ESS technology with XdB bass-enhancement and twin stereo speakers.  It's fully WiFi and cellphone shielded, so can be used with the iPhone 3G (or original iPhone) without needing to flip off the phone functionality.  Music is automatically paused if the phone rings.
The inMotion MAX also has a digital FM radio, high-contrast LCD capable of showing RDS data, and touch-sensitive buttons.  It's rechargeable battery is apparently good for 3.5hrs; we'll be reviewing the speaker dock over the next few weeks, and letting you know exactly how well it performs.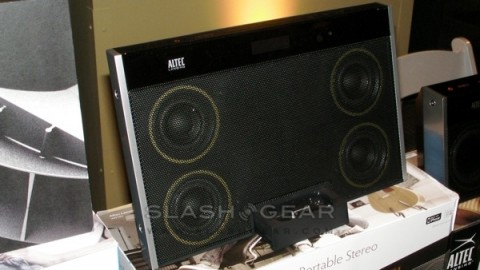 As for the inMotion Moondance GLOW, the size is a little smaller than the MAX but it adds a multicolor LED lighting system.  Twin 3-inch speakers provide the sound – whether from an iPod, another PMP or the integrated FM radio – and while the system isn't quite as powerful as the MAX it still holds its own for the bedroom use Altec Lansing intend.  Two remotes are supplied, a standard and a "wireless snooze" control; Altec Lansing assured us that even if you launch the wireless snooze across the room in a fit of sleep-deprived hatred, it'll still work.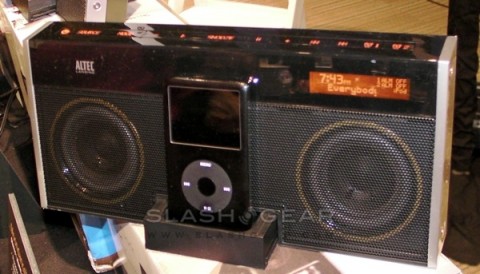 Finally, what Altec Lansing are calling "the industry's first 2.2 desktop speaker system", the Expressionist BASS.  Unlike traditional 2.1 systems, which use twin speakers for treble and mid frequencies and a separate subwoofer unit, the Expressionist BASS integrates two smaller 4-inch subwoofers into each desktop speaker.  The result is a more compact, less wire-tangled setup, with sound quality that in our demonstration sounded just as good as an independent sub.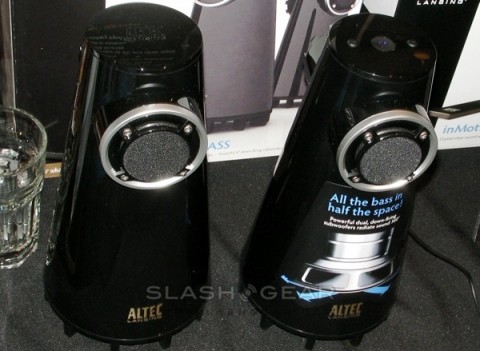 The Altec Lansing inMotion MAX (iMT702) and Moondance GLOW (iM402) systems will be available in October 2008, priced at $199.95 and $179.95 respectively. The Expressionist BASS system will have a MRSP of $129.95, again launching in October.