Altec Lansing by ACS Custom Series In-Ear Monitors announced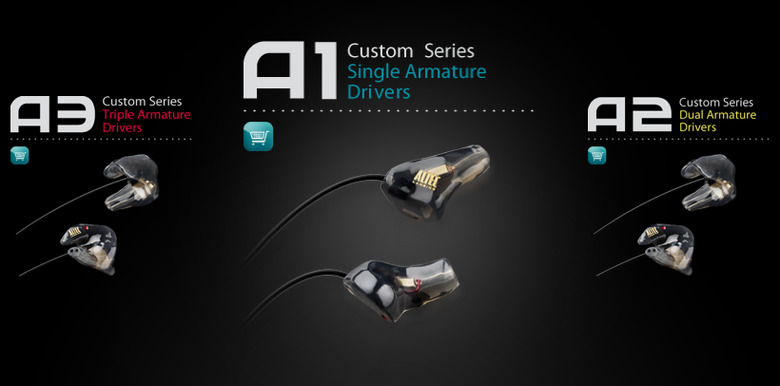 High-end audio maker ACS Custom's partnered up with Etymotic before to create earphones, but this time, they're taking up Altec Lansing's offer to team up to build something new in the audio space, in the form of a trio of "Custom Series" in-ear-monitors. An eye-raising partnership, to say the least, since Altec Lansing has generally been consumer-facing, and ACS, not at all. Nevertheless, according to Altec Lansing, these will be hand-crafted, armature-driver based in-ear-monitors that will aim to slake the high-fidelity thirst of audio enthusiasts and professionals alike.
The new Custom Series in-ear monitors are custom handcrafted from "advanced, medical-grade silicone that is extremely soft". The silicone will naturally adapt to a listener's body temperature, and allow it to form a flexible yet uniform seal that guarantees comfort for long listening durations and also passively isolates noise up to -27db. All three new models have a impressive frequency response range of 16Hz ~ 20KHz, which will will insure the highest fidelity and quality out of any audio experience, be it music, movies, games, or sound engineering.
Availability for the Altec Lansing by ACS Custom Series In-Ear Monitors begins this month (November). Pricing goes like this; the triple-driver armature A3 will be $999.95, while the A2 (dual driver) and A1 (single-driver) models will have a suggested retail price of $749.95 and $499.95, respectively. So go ahead and schedule that appointment with your audiologist, since these custom monitors are going to start selling very, very soon. And it'll be interesting to see how these stack up against the increasingly popular Beats by Dr. Dre line, especially since Beats is working with smartphone maker HTC now.
[via Altec Lansing]