Allerta inPulse BlackBerry Watch Shows Up Again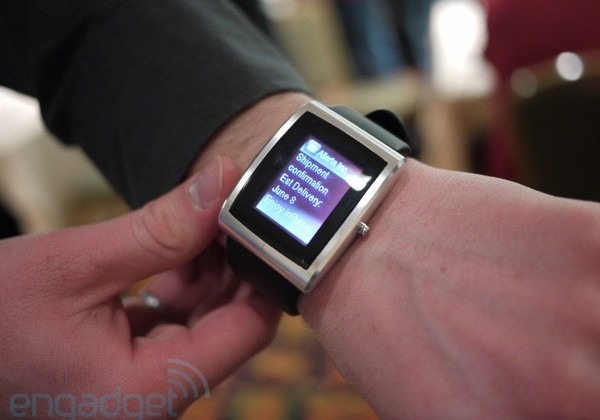 The inPulse Bluetooth BlackBerry watch has been a long time coming. First leaked, and then officially announced by Allerta in Waterloo, Ontario, this watch is definitely something that we've had our mind on since we heard about it running around CES this year. While it wasn't working just a few months ago, it looks like it's working just fine now.
Allerta's inPulse watch is a 1.3-inch OLED display, and it's able to show you previews of emails, text messages, as well as show you who's calling you. The design is meant to keep you from pulling out your BlackBerry when you wouldn't necessarily want to; like a meeting, or on a date. You get a message, you can just check your phone, as discretely as it gets, and get caught up on what's going on. Engadget managed to get some face time with the inPulse BlackBerry watch, and from what they can tell, the general experience is a good one.
The OLED display is great indoors, like your office or meeting room, but they imagine that seeing what's going on outside, in direct sunlight, may prove more frustrating. They also mention that the inPulse isn't meant to take away the need for your phone: it's meant to just catch you up on messages, texts, calls, and what (fancy this) what time it is. The bad news? While it was said that shipments would go out in February, that obviously didn't happen, and Allerta still doesn't have a firm date of shipments for those who pre-ordered all those months ago. Though, the image you see here is apparently the final build, and this is what you'll be getting when the company does finally ship them out. So, hopefully soon. Did anyone out there pre-order?
[via Engadget]