Alleged battery for next iPhone surfaces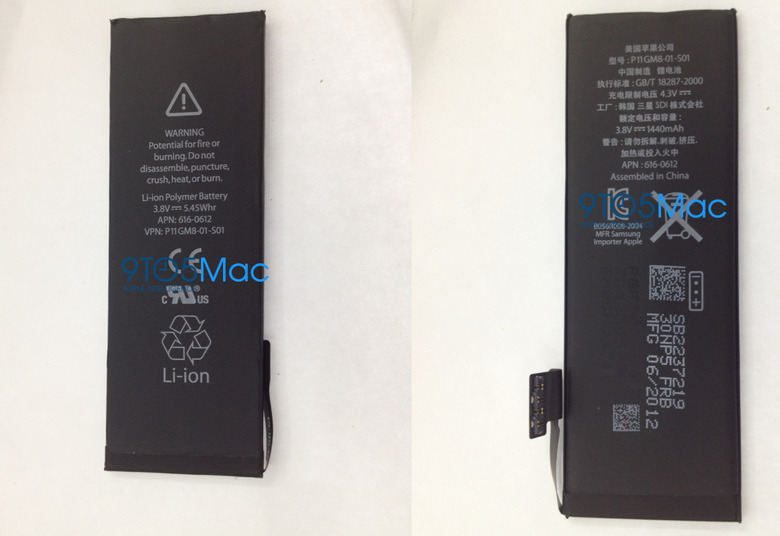 Yesterday we saw the internal sensors and parts of the next iPhone laid out for all to see, and now 9to5Mac has its hands on what it believes to be a battery for Apple's next smartphone. The capacity of the battery has been increased to 1,440mAh, up from the 1,430mAh rating used for the iPhone 4S. The voltage of the battery is also up from previous Apple smartphones, jumping to 3.8, up from 3.7.
The watt-per-hour measurement also increases a result to 5.45wHr, up from 5.3wHr on the iPhone 4S. The battery is definitely a recent creation too, with labelling indicating it was manufactured in June 2012. The small capacity bump is curious considering rumors that the next handset will feature power intensive features such as LTE.
Not only that, but the screen will also reportedly see an increase to 4-inches, with a resolution bump to 1136x640. A larger screen inevitably draws more power, and while LTE chips are becoming more efficient, 4G data transfer still drains batteries faster than 3G. The part might not be destined for the next iPhone, and could simply be an updated battery to be used in the iPhone 4 and iPhone 4S.
9to5Mac believes, however, that Apple will be using a more efficient dual-core chip that would negate the need for a significantly larger battery. Not only that, but the company could make use of Qualcomm's new Gobi LTE chip, which requires much less power than existing LTE solutions. There's not long until we find out either way, with the company allegedly penciling in a September 12th reveal and September 21st ship date.