All hail Mercedes-AMG's E 63 S 4MATIC+, the anti-Tesla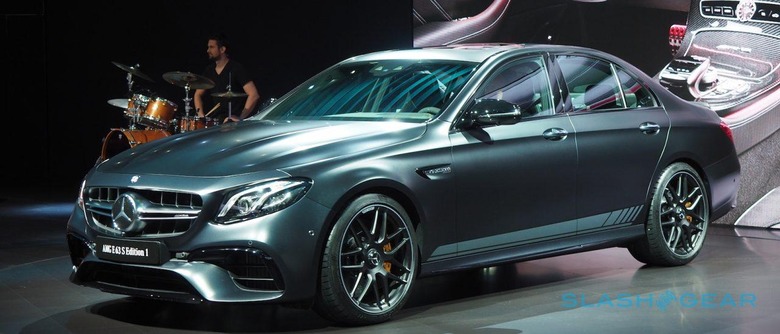 With Tesla squeezing even more performance out of the Model S today, it's never been a better time to be an electric speed-addict, but what if your tastes lean more toward the Death Star than the plucky eco-resistance? The devils at Mercedes-AMG have just the answer, in the shape of the company's most powerful E-Class sedan ever. Dubbed the Mercedes-AMG E 63 S 4MATIC+, it's 612 horsepower of fossil fuel burning magic.
Mercedes-AMG, it seems, just can't help itself when it comes to taking German sedans and coaxing them into performance beasts that put supercar coupes to shame. In fact, the company is describing the E 63 63 S 4MATIC+ as "a business jet on wheels," according to Tobias Moers, chief exec of the tuning team. What's interesting is that there isn't some vast V12 engine under the hood doing all that.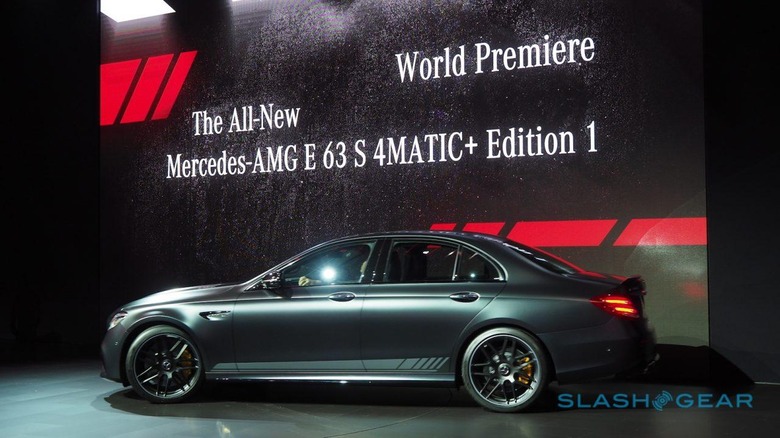 In fact, the car has a "mere" 4.0-liter V8 biturbo. That's still enough for a heady 627 lb-ft. of torque; thankfully the E 63 S 4MATIC+ has permanent all-wheel drive in an attempt to get most of that power down to the asphalt. Peak torque arrives at just 2,500 rpm.
Altogether, you're looking at a 0-62 mph time of just 3.4 seconds, while top speed is an electronically-limited 155 mph. Mercedes-AMG isn't saying what the car would max out at were that pesky safeguard lifted, though it's not hard to imagine it getting close to the 200 mph point. Compared to the old version, the new 4MATIC+ system has been tweaked for more flexibility.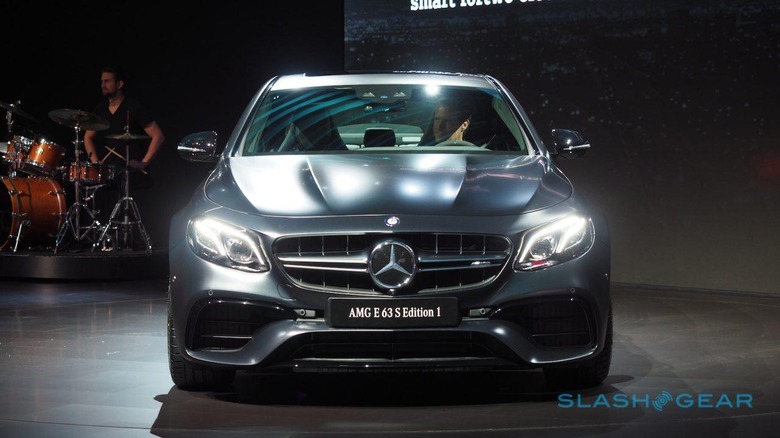 Now, torque distribution to the front and rear is fully variable, with the car's computers automatically pushing power to wherever it can be best used depending on traction and driving style. It means that, if the road conditions match, the E 63 S can actually be a rear-wheel drive car. A drift mode – available in the "Race" setting – turns off ESP and, as long as the transmission is in manual, locks the car into rear-wheel drive for some sideways action.
That transmission is a AMG SPEEDSHIFT MCT nine-speed sports gearbox, with double-clutching and new software for faster downshifts. AMG has ditched the torque converter, replacing it with a wet start-off clutch; the upshot is less weight and swifter throttle response. Air suspension, with Comfort, Sport, and Sport Plus modes, is fitted as standard.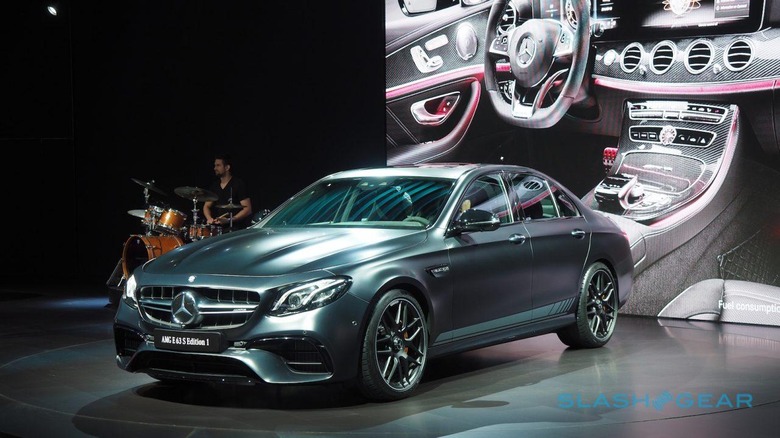 A second version of the car, the E 63 4MATIC+, sees power dip slightly to 571 HP, though that only adds a tenth of a second to the 0-62 mph time. Both cars have the AMG Cylinder Management system, which uses cylinder deactivation to basically turn half the engine off during low-load periods. The upshot is better fuel economy, though the cylinders do kick back in if you bury your right foot.
Even with that, this isn't going to be some environmentalist's poster child. Better, then, to focus on the aggressive restyle the AMG team has wrought, with a new design compared to the regular E-Class ahead of the A-pillars that includes a coupe-style hood inset between straining front wings. The wheel arches are swollen outward, 0.67-inches wider to accommodate the fatter, 20-inch light alloy wheels.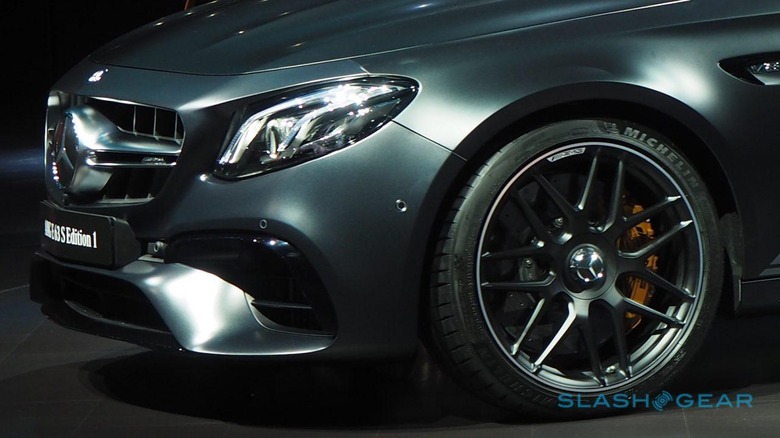 The grille, meanwhile, gets twin louvres in chrome and vertical black struts, while there's a new front apron and splitter. Side-sills visually lower the car, with the E 63 S getting chrome inserts. A surprisingly subtle spoiler and twin bright-chrome tailpipes round out the rear.
Squeeze inside, and there's a black leather sports steering wheel with a flat bottom, sport seats as standard with leather and microfiber, and optional AMG Performance seats with integral head restraints on the order sheet. Aluminum trim is joined, on the E 63 S, by leather on the instrument panel and beltlines, a crystal gray 12 o'clock notch on the wheel plus matching seat piping, and an IWC analog clock. The twin-LCD dashboard – standard on the S-spec car – gets a special race timer system for track days.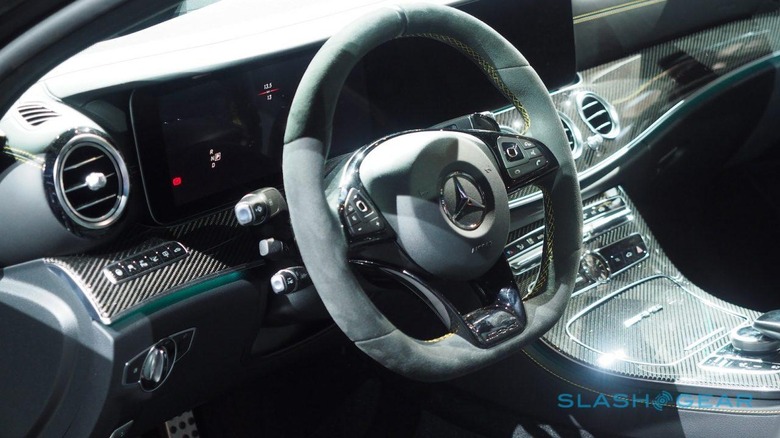 Get your order in early – Mercedes-AMG says roughly a year after the car goes on sale – and you can have the E 63 S 4MATIC+ "Edition 1" shown here. Night black magno paint with contrasting side-sill stripes, new matte-black wheels, and the Night package, it also throws in a black and yellow interior and carbon-fiber trim.
Sales kick off on January 16, 2017, with the first cars expected to be delivered from March. No word on pricing yet, but it's worth remembering that the current AMG-fettled E 63 starts out at more than $101k.