Alienware M11x Review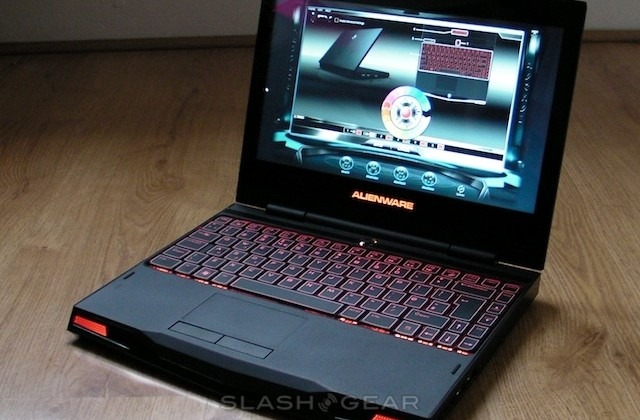 It's usually pretty straightforward: an 11.6-inch notebook will deliver battery life but lack grunt, while a larger machine is more likely to pack performance at the expense of liberty from a power point. The Alienware M11x promises to change all that; while it may have the diminutive dimensions of a CULV notebook, its overclocked processor and switchable discrete graphics claim to make it a gamer's machine where longevity is a choice. Is the M11x really the best of both worlds? Check out the full SlashGear review after the cut.
It's certainly a distinctive notebook. Like larger Alienware models, the M11x swaps the curves so fashionable in current mainstream laptops for a blunter, angular design. The company have happily shown a little more restraint when it comes to grilles, contours and fluting, but there's still no doubting the family lineage. The backlit Alienware logo on the notebook's lid is mirrored by a second, slightly smaller logo just above the keyboard that acts as power button and status indicator.
The keyboard itself, meanwhile, uses Alienware's stylized font, and the flat keycaps are reasonable to type on. There's a decent amount of key travel, though it's not a particularly quiet 'board, but we're not 100-percent convinced by the layout. It feels a little cramped in terms of width, perhaps because Alienware have slotted in a row of Home/End/Page Up/Page Down keys on the far right; most frustrating are the unduly narrow arrow keys, and we often found ourselves hitting the Windows context menu button when we meant to press left.
Alienware M11x unboxing video:
[vms 98e5058938167c8ab6c5]
As for the trackpad, that's a discrete textured square with tactile buttons underneath it. The standard Synaptics multitouch gestures – such as two-finger scrolling and pinch-zoom – are turned off by default. If it's easy to miss the pad, that's because of Alienware's LED lighting effects. The entire keyboard is backlit, as is the Alienware logo (both the text under the display and the Alien-head power button), the status indicators on the top left of the 'board, and the two grills inset into the front edge of the notebook. A manager app called AlienFX is preloaded, from which you can independently set each color from a wheel of different hues, before saving it as an overall color scheme. It's also possible to choose two different schemes to automatically load depending on whether the M11x is on mains or battery power. It's perhaps a little gimmicky, but it does lift the otherwise somber gloss-black finish of our review unit.
It also – at least the "Alienware" text – serves to fill some of the space left around the display. The 11.6-inch 1366 x 768 panel has a reasonably deep bezel above and underneath, though the TFT LCD itself is bright and crisp. Colors are particularly well saturated, a side-effect of the otherwise moderately frustrating glossy screen coating that can make finding a reflection-free angle a chore. Not such an issue when browsing or writing emails, but dark, moody games can sometimes leave you trying to peer past your own reflection to see what might be lurking round the corner.
Of course, if the onboard display isn't perfect, there's plenty of choice for hooking up external monitors. The M11x has VGA, HDMI and DisplayPort, along with three USB 2.0 ports, a pair of headphone sockets, a single microphone input, FireWire, ethernet and a 3-in-1 memory card reader. That's more impressive than some 15.6-inch notebooks, never mind an 11.6-inch machine. Standard wireless connectivity includes WiFi a/b/g/n and Bluetooth 2.1. There's also a SIM card slot, for use if you've spec'd the optional Gobi 3G wireless module, and a 1.3-megapixel webcam. Another tab in Alienware's manager app is for Aliensense, the company's face-recognition app, which over a short period of time can learn to spot your face and automatically log into Windows 7 Home Premium 64-bit (Professional and Ultimate are options).
[sgbenchmark id=90 show=system]
All that would be for naught if the M11x fell short when it comes to performance, and thankfully that's very much not the case. Alienware offer a choice of two processors, Intel's Pentium SU4100 1.30GHz in the entry-level machine or their Core 2 Duo SU7300 1.30GHz in the more expensive models. Out of the box they come overclocked; our review unit had the Core 2 Duo chip, running at 1.73GHz and paired with 4GB of DDR3 memory. Basic versions get just 2GB of memory, or you can specify up to 8GB. No matter the model, graphics are courtesy of NVIDIA's GeForce GT 335M with a dedicated 1GB of GDDR3 memory; that's switchable with Intel's integrated GMA 4500MHD graphics chipset. Storage ranges from a 160GB 5,400rpm HDD, though 250GB to 500GB 7,200rpm HDDs, and finally a 256GB SSD, and the standard battery is an 8-cell 64 Whr pack (that requires you unscrewing the bottom panel to access).
Unlike other switchable graphics systems we've seen, which require you to log out of the OS or even reboot the notebook altogether, Alienware let you flip between the Intel and NVIDIA GPUs by hitting Fn+F6. NVIDIA's Optimus system – which automatically chooses which GPU to use, based on what the user is asking of the system – isn't present, but we can see some people preferring the manual control. The first time we flipped from integrated to standalone graphics the M11x had to download some audio drivers from Windows Update, but subsequent changes were fast and painless.
The Alienware M11x, then, is a Jekyll and Hyde machine, though to be fair only when it comes to visual crunching. We ran Geekbench, a synthetic test of processor and memory, and the M11x scored 2502 when on integrated graphics and 2512 on discrete graphics. Either way that's a huge score given what we're used to other ULV ultraportables managing; the Lenovo ThinkPad Edge 13, which has the same processor (though at its regular clock speed) manages just 2086 on the same test.
[sgbenchmark id=90 show=score]
Where the difference is more obvious is in graphics performance. We switched over to PCMark Vantage, which tests all aspects of the notebook's abilities and then rates it in categories such as productivity and gaming. Here, running with the integrated GPU, the M11x scored 4,080 PCMarks overall. Switch to the discrete graphics, meanwhile, and the overall PCMark Vantage score climbed to 4,802. That might not sound like a huge increase, but take a look at the individual categories and you get a clearer picture of what the NVIDIA GPU brings to the table. Gaming rose from 3,028 to 5,500, while Windows 7's speed at crunching photos and importing them almost doubled. Looking at the GPU's ability to manipulate images, that increased almost tenfold.
Given everything going on inside the M11x, we were concerned as to how hot the system might run. Happily even when under pressure the above-average cooling fan keeps the notebook from getting too hot for comfort. The downside, of course, is that it's a little noisier than rival machines; not so bad when you're gaming or watching a movie, since the notebook's surprisingly decent speaker system is sufficient to drown out the background hum, but you'll notice it in a normal room.
Alienware reckon you'll see up to 8.5 hours of runtime from the M11x, as long as you're only using the integrated GPU. In practice, we saw just under seven hours from a full charge, comprising basic web browsing over WiFI and some audio playback. Turning off the LED backlighting for the keyboard and logos eked out a few more minutes, and if you're really keen you can head into the BIOS and turn off CPU overclocking. With the NVIDIA GeForce GT 335M active, meanwhile, the M11x made it to just over four hours of HD playback, running a locally-stored 1080p video scaled to suit the 720p-capable display.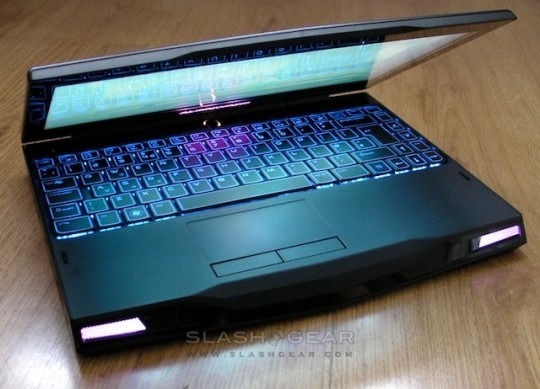 Of course, the big question is how much AC-free gaming can you manage from a full charge, and that of course depends on how system intensive the game itself is. It's worth remembering that Alienware specifically chose not to have the M11x automatically throttle the CPU/GPU when running on battery power; that means you always get the full benefit of the hardware, but it does take its toll on runtimes. Still, we found we could manage around 2hrs 45 minutes of solid gaming before the M11x expired, and notching down the display backlight (and, to a lesser extent, the color lighting effects) squeezed out a few extra minutes.
It's important to remember that removing the battery itself isn't straightforward, and requires physically unscrewing the bottom of the M11x; not something you'd want to do while in-transit. There's a handy five-stage LED power level meter on the bottom, though, which means you can check battery status without necessarily booting up the notebook. Incidentally, a cold boot takes 46 seconds to the desktop (with the system tray fully loaded) while resuming from Windows 7 standby takes under 3 seconds.
There's certainly plenty to love about the Alienware M11x. The switchable graphics convert this 11.6-inch ultraportable between a mild-mannered, long-legged web workhorse, with sufficient battery life to get you through most of a work day, and a serious gaming machine that's as happy playing the latest titles while on the train as it is pumping it out through your HDTV. You'll pay for the privilege, of course; while the M11x starts at $799 in the US or £549 in the UK, our particular review unit (with the 256GB SSD, Core 2 Duo processor and 4GB of memory) comes out to an altogether more hefty $1,539 in the US or £1,169 in the UK.
This isn't the be-all and end-all in mobile gaming; while the overclocked processor is certainly capable, it's ULV roots mean it's not on a par with the latest Core i5 and Core i7 chips you'll find in bigger notebooks. That's the payoff for longer runtimes when you're on integrated graphics. Still, we've a feeling that's a compromise those people keen on an 11.6-inch machine will be willing to make. Non-gamers looking for a graphically-capable ultraportable should also find plenty to like here (though they might wish the design was slightly less "Alienware" and more discrete). All-day battery life with simultaneous gaming is still some way off, but for now the Alienware M11x is ahead of the pack.