Alienware M11x pricing/specs get official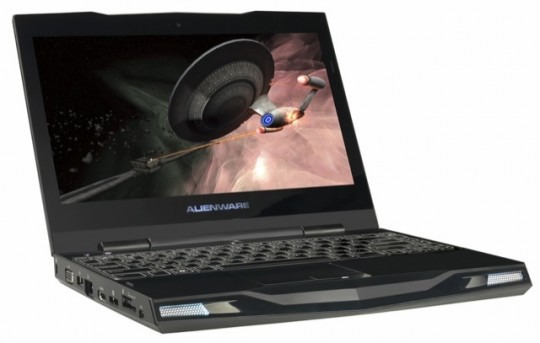 It comes as little surprise, given the details leaked earlier this week, but Dell have officially announced pricing and specifications for the Alienware M11x 11-inch notebook.  As expected, the M11x will start from $799 and be available with processors up to Intel's 1.3GHz Core 2 Duo SU7300, up to 8GB of DDR3 memory and up to 8hrs of battery life.
The whole thing weighs under 4.5lbs, and has up to 500GB hard-drive, a 1GB NVIDIA GeForce GT 335M video chipset, WiFi b/g/n and optional 3G WWAN.  Connectivity includes HDMI, VGA, three USB 2.0, FireWire and a multiformat memory card reader, and the ultraportable scores over 6,100 in 3DMark 06.
Of course, the Alienware M11x is already on sale now, at least for preorder customers, though for the $799 entry price you obviously get a more moderate system with a 1.3GHz Pentium CPU, 2GB of RAM and a 160GB hard-drive.  Throw in the headline functionality and you're looking more in the region of $1,500.
Left 4 Dead 2 on the Alienware M11x:
Press Release:
DELL DELIVERS PHENOMENAL GAMING POWER IN ITTY BITTY LAPTOP: ALIENWARE M11X

ROUND ROCK, Texas, Feb. 2, 2010 – Today Dell launches the much anticipated Alienware M11x – the most powerful 11-inch laptop in the universe. Unveiled at CES 2010 where the gaming community praised the small yet powerful laptop, the new Alienware M11x truly redefines mobile gaming. The Alienware M11x harnesses the gaming power of a 15-inch laptop in an 11-inch design weighing in at just under 4.5 pounds. Starting at $799, the ultra-compact M11x is the perfect on-the-go gaming companion that will delight gamers and students and doesn't weigh down a backpack. The Alienware M11x is the latest example of how people around the world benefit from the Dell and Alienware collaboration.

Alienware M11x Key Specs:

· Processor: Up to Intel® Core™2 Duo SU7300 (1.3GHz, 800 MHz, 3 MB)

· Graphics: 1GB GDDR3 NVIDIA® GeForce® GT 335M

· Memory: Up to 8GB DDR33 1066MHz

· Hard Drive: Up to 500GB4 7200RPM or 256GB4 Solid State Drive

· Operating System: Genuine Windows® 7 Ultimate (64-bit)

· Connection: 802.11 b/g/n & Optional Internal WWAN

· Ports: HDMI / VGA / 3 USB / Media Card Reader / FireWire

· Battery Life: Up to 8.5 Hours of Battery Life1

· Performance: Over 6,100 3DMark 06 Score! 2

Quotes:

"Among all the exciting products that debuted at CES we firmly believe that the Alienware M11x stood out because it packs an unprecedented amount of horsepower into a small form factor, making real gaming possible in a whole new segment," said Rene Haas, general manager of notebook products at NVIDIA . "It goes without saying that the fastest sub-12 inch laptop in the universe needs a powerful GPU and we are thrilled that Alienware selected the NVIDIA GeForce GT335M to power the Alienware M11x."

"The Alienware M11X is an exciting evolution in the PC gaming segment. Intel is thrilled to see the new M11X make a successful splash in the market. It recently won CNET's best gaming platform at CES. Even more exciting the M11X is powered by an Intel ultra-low voltage cpu – which makes the system very thin and compact with an 11.6" screen. A real testament to Alienware ingenuity and Intel performance." says Intel's Doug Parker – Director, Americas Marketing

"The extraordinary performance of the Alienware m11x redefines, in a big way, the capabilities of small form factor laptops," said Arthur Lewis, general manager, Dell Gaming Group. "By combining this level of graphics performance, with over-clockable CPUs in a truly mobile product – all for less than $1,000 — Dell once again demonstrates its commitment to making superior technology accessible to all."

A lot went into the engineering and design of the M11x. Find out about the project, its code name, and what it took to pack this much punch into such a small laptop: 'A brief history of the M11x'

1Based on lab testing. Varies by configuration, operating conditions and other factors. Maximum battery capacity decreases with time and use.

2Based on Futuremark 3DMark 2006 test performed by Dell Labs in January 2010. Actual performance will vary based on configuration, usage and manufacturing variability.

3 Significant system memory may be used to support graphics, depending on system memory size and other factors.

4 GB means 1 billion bytes and TB equals 1 trillion bytes; actual capacity varies with preloaded material and operating environment and will be less.