Alienware Aurora R9 desktop takes a bold gaming gamble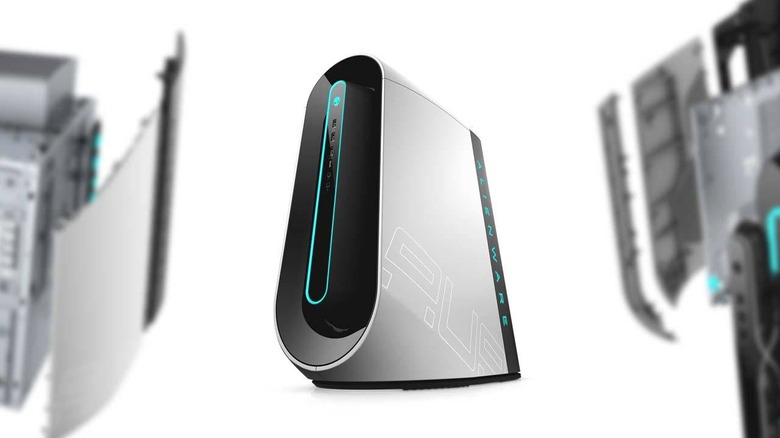 This morning Dell's Alienware brand revealed a desktop machine called Alienware Aurora R9. This desktop is made to be a gaming machine, offering a wide variety of options in processors, storage, and memory, and comes stacked with a wholly unique industrial design. This is a bold design whose color options should give you some idea of how intense the designers at that brand have gotten: Lunar Light OR Dark Side of the Moon.
This piece of hardware is the current epitome of the new Alienware Legend industrial design ethos – on a desktop machine, in this case. The difference between this stand-out design and the other "LOOK AT ME" designs of gaming PCs shown by brands in the past is what Dell calls "the ethos of purposeful innovation." They suggest that the design isn't just for show – here it's in place for "improved airflow" and the always appreciated ability to upgrade with ease thanks to a "tool-less" design.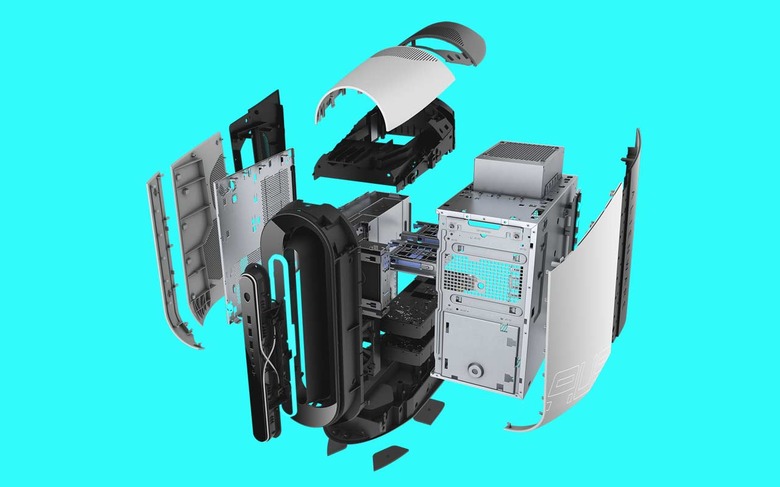 The Alienware Aurora R9 has options for 9th Gen Intel Core i3, i5, i7, and i9 processors, all aimed at connecting with the Intel Z370 chipset and a Micro ATX motherboard. This machine works with official AlienFX Lighting – 2 unique programmable zones with up to 16.8 million distinct colors for the Dark Side of the Moon version OR 3 unique zones for the Lunar Light. Audio output from this machine includes Internal High-Definition 7.1+2 Performance Audio.
Graphics options come from both AMD and NVIDIA. Users can choose from AMD Radeon RX 560X, 570X, RX 5700, RX 5700 XT, or dual AMD Radeon RX 570X GPUS with between 4GB GDDR5 and 8GB GDDR6 depending on GPU. NVIDIA options are even more diverse, including GTX 1650, 1660, 1660 Ti, RTX 2060, 2070, 2080, 2080 SUPER, 2080 Ti, and dual RTX 2080 with NVIDIA NVLink SLI. RAM for NVIDIA options ranges between 4GB GDDR5 and 11GB GDDR6 (OC Ready) depending on configuration.
Ports on this monster include (1x) Headphone/Line Out, (1x) Microphone/Line In, (2x) Type-A USB 3.1 Gen 1, (1x) Type-A USB 3.1 Gen 1 w/Powershare technology, and (1x) Type-C USB 3.1 Gen 1. And that's only on the front. The rear ports include (1x) SPDIF Digital Output (TOSLINK), (1x) SPDIF Digital Output (Coax), (5x) Type-A USB 2.0, (1x) Type-C USB 3.1 Gen 2 w/Powershare technology (up to 15W), (3x) Type-A USB 3.1 Gen 1, (1x) Type-A USB 3.1 Gen 2, (1x) RJ-45 Killer E2500 Gigabit Ethernet, (1x) Full Size DisplayPort 1.2 Output, (1x) Microphone In, (1x) Line In, (1x) Line Out, (1x) Center/Subwoofer Output, (1x) Rear Surround Output, (1x) Side Surround Output.
This piece of hardware will be available starting on August 20, 2019 through Dell's online shop and through retailers soon. The least expensive version of the Alienware Aurora R9 will be approximately $969.99 USD with one massive amount of optional hardware configurations inside.