Alienware Alpha ships, still no SteamOS in sight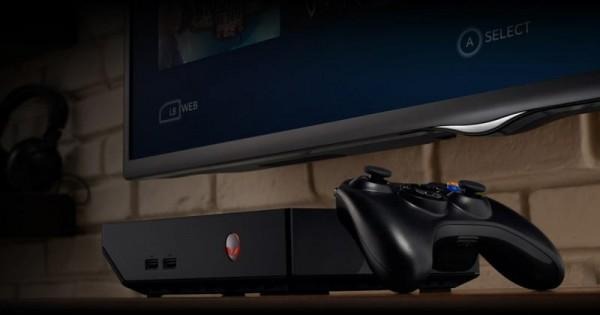 Those who have pre-ordered Alienware's foray into the almost oxymoronic realm of "living room PC gaming" now have something to look forward to in the coming days. Dell has announced that the Alienware Alpha is now shipping to those early adopters and can also be bought online as well as from select retail partners. Some of that crowd, however, might be disappointed to hear that the gaming rig is indeed not shipping with SteamOS, considering Valve is quite behind schedule, and instead runs completely on Windows 8.1.
This isn't news, of course, as the pre-order already noted that the Alpha, supposedly one of if not the first SteamOS commercial box, wouldn't ship with SteamOS, but perhaps some secretly hoped things will change for the better. Unfortunately, those hopes are now dashed. It's hard to pin blame on one or the other company, but Valve is now in the precarious situation of having the window of opportunity for Steam Machines to be closing fast. That said, all hope is not lost, as the Alienware Alpha is still 'SteamOS ready", or at least SteamOS-capable.
That's because the Alpha is technically a PC in a small box, pretty much like what Steam Machines aim to be. It's it a full PC gaming rig, except that its graphics are powered by a custom built card from NVIDIA based on the Maxwell architecture of the GeForce GTX 860M. This already high-performance card is paired with a super fast 2 GB DDR5 of memory to keep your games running smoothly at the highest settings, even with a 1080p resolution. For the CPU, buyers will have a choice of fourth generation "Haswell" Core processors, ranging from i3 to i5 to i7, with matching price tags of course. RAM options range from 4 to 8 GB.
As the box runs a full copy of Windows 8.1, you can pretty much do anything you want with it. The Alpha ships with an Xbox 360 wireless controller, but you can plug in any peripheral you want later on, including keyboard and mouse. You can opt to dive direclty in to Steam's Big Picture mode for immediate gaming or switch over to the regular Windows 8.1 interface for more serious work. The Alpha doesn't even have to be in your living room, as you can use this also on your desk. Being only less than 2.5 inches tall and less than 8 inches wide, it's not going to take up too much space.
The Alienware Alpha starts with a price of $549. That's enough to get you an Intel Core i3 with 4 GB of RAM and a 500 GB SATA drive. But the dream machine has a Core i7, 8 GB of RAM and 2 TB of storage space, for a price of $899. For a limited time, each purchase of an Alpha will include a bunch of freebies, from free titles like Magicka and Metro Light, to free in-game goodies and DLCs.
SOURCE: Dell