Alienware All Powerful M17x laptop revealed early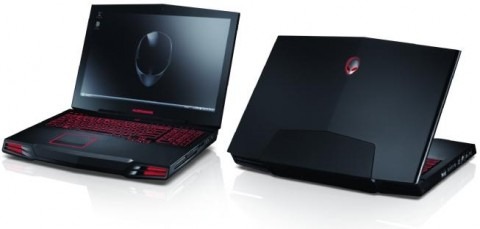 Ah, the sweet smell of a broken embargo.  Alienware's All Powerful M17x gaming notebook thought it had a few days of tease left in it, but the 17-inch 1920 x 1200 Core 2 Extreme quad-core behemoth has been set free by PCWorld.  Under the carefully creased hood there's up to 8GB of 1,333MHz DDR3 RAM and a choice of up to 1TB 7,200rpm hard-drive or 512GB SSD.  Graphics are courtesy of two 1GB NVIDIA GeForce GTX 280M GPUs.
There's also a dual-layer Blu-ray drive, nine-cell battery, GeForce 9400M G1 GPU with HybridPower (in case you want to save some battery runtime) and more ports and connectivity than you can shake a brace of cables at.  WiFi draft-n is joined by FireWire, four USB 2.0, eSATA, HDMI, DisplayPort and an ExpressCard slot. 
Still, when you've got an 11.68lb anodized aluminum laptop measuring 15.98 x 12.65 x 2.11 inches there's more than enough room to funnel in the superlatives.  Admittedly, a lot of these headline-grabbers are optional, hence the starting price of $1,799 when it "officially" arrives.